Did you know that you can use Baking soda as a natural deodorant? Baking soda, also known as sodium bicarbonate, has a million-in-one use. Baking soda is a great leavening agent for baking. You can also use it to clean and deodorize surfaces and even safe for treating conditions such as heartburn.
What do you do when your recipes call for Baking soda, and you don't have any in the house? Well, you could rush to the store and buy some, or you could check and see if there's anything already in your pantry that you can use as a substitute for Baking soda. Here are just a few alternatives you can use when baking without Baking soda.
6 Substitutes for Baking Soda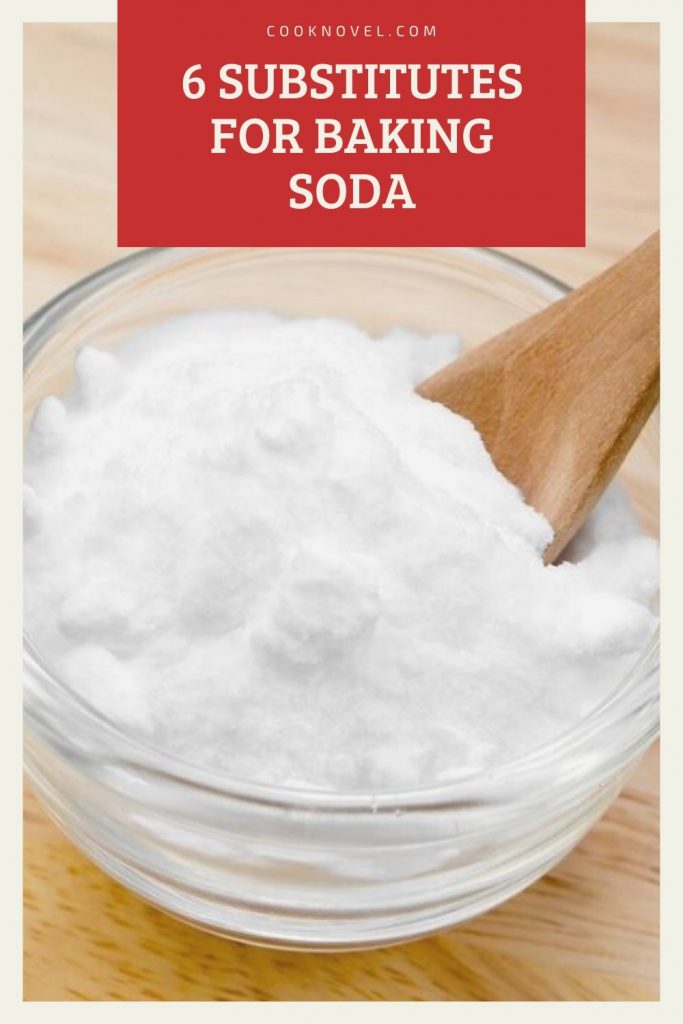 Baking Powder
People often get Baking soda and Baking powder confused with each other, which is probably due in part to their similar-sounding names. Fortunately, even if you do get these two confused, it doesn't matter because they are mostly interchangeable, at least as far as actual baking is concerned. It is because baking powder at least in part is made with Baking soda as a key ingredient.
The other main ingredient used for baking powder is Potassium bitartrate, otherwise known as cream of tartar which is the powdered form of tartaric acid, a natural substance found in a particular variety of plants. Just like baking soda, cream of tartar also is a leavening agent that makes it a useful addition when baking.
With this in mind, baking soda is a more than adequate substitution for baking powder if you don't have the latter on hand. But there is a trade-off. However, Baking powder isn't quite as effective compared to regular Baking soda. So if you want to have the same potency as baking soda, you'll need to use about three times as much powder as you normally would. That means, for example, using three teaspoons of baking powder when the recipe calls for one teaspoon of baking soda.
Also worth mentioning that using baking powder as an alternative to baking soda may also slightly alter the taste of whatever it is you're baking. So your mileage may vary on how useful baking powder is as an alternative to compensate for the added saltiness and acidity of baking powder. You might need to reduce the amount of salt the recipe calls for as well as any other ingredients with a high acidity content. Nevertheless, if the stores are closed and you're out of baking soda, beggars can't be choosers, am I right?
Baker's Ammonia
You can also try baking using Baker's ammonia instead of Baking soda. The scientific name for Baker's ammonia is Ammonium carbonate. It has been used as the leavening agent of choice for Baker's all over the world, dating back to the 13th century. While it was eventually replaced by baking soda and baking powder in most modern practices, Baker's ammonia still plays a niche role in baking. It always gives us plenty of usefulness in the kitchen.
What makes Baker's ammonia distinct among other leavening ingredients is the uniquely crisp taste and texture it imparts on baked goods. It can lead to a distinct and delicious creation such as thin crispy cookies and crackers, which can potentially prove to be both a blessing and a curse.
While Baker's ammonia is an excellent addition to a variety of specialty recipes, this also means that Baker's ammonia might not be a suitable alternative to Baking soda for all recipes. You will also need to be mindful of its smell. Ammonia is well known for its pungent smell, and Baker's ammonia is no exception. When exposed to the heat and acid, Baker's ammonia produces a combination of vapor that can lead to a particularly unpleasant smell and stink up your kitchen. While some thin baked goods will dissipate this smell, thicker baked goods such as a muffin or cake might retain the ammonia smell even after baking. Because of this, Baker's ammonia might not be an ideal substitute for Baking soda in all situations.
Make sure to open the kitchen windows before you start experimenting with this one.
Self-rising Flour
Are you tired of having to buy all your baking ingredients separately or always forgetting to add at least one key ingredient to your shopping list? Luckily you can always turn your trip for baking supplies into a one-stop-shop by picking up some self-rising flour instead.
Self-rising flour is a combination of different baking ingredients that have already been perfectly mixed together. Namely, all-purpose flour is combined with around a teaspoon and a half of baking powder and 1/4 teaspoon of salt. However, before you try to jump right into using self-rising flour for all your baking needs, you have to consider a few things.
First of all, the fact that self-rising flour comes pre-portioned with baking powder and salt already. Keeping this in mind, you will need to make some adjustments to your recipe before you add this to your mix. Otherwise, it could potentially alter the taste and quality of the final product. Because baking powder already contains an acidic component, you'll also want to replace the acid in your recipe with something a little more neutral to get the desired leavening reaction. For example, if you are using self-rising flour, you'll probably want to switch out the buttermilk with regular milk instead of going overboard on the recipe's acid content.
Overall, self-rising flour is not what you'd call an ideal ingredient for amateur bakers to play around with, and it may require trial and error before you get the hang of using it in all your baking recipes. Still, don't think of this as a reason to get discouraged if you're new to using this particular ingredient after all practice does make perfect.
Potassium bicarbonate
Potassium bicarbonate is commonly used as a dietary supplement, but in a pinch, it can also be used as a leavening agent for baked goods. Because it doesn't contain sodium, potassium bicarbonate might be ideal substitution for people trying to reduce their sodium intake. The trade-off for using potassium bicarbonate is that the reduced salt content will also have a noticeable effect on the taste of whatever you're baking. So be prepared to have some slight variation, but then again, if sodium intake is not one of your concerns, you can always add a little extra salt to the recipe to compensate that. Baking is an art, not a science, or that's what some of us would like to tell ourselves.
Egg Whites
Egg whites are also a great leavening agent. Some cake recipes call for only eggs and no additional leavening agents. You can beat egg whites and whisk a good deal of air into them for pancakes. The more air that it will incorporate will add more volume to your baked goods. The protein in the egg whites also provides the physical structure to the baked products.
Yeast
Yeast is considered a biological leavening agent because it is a living organism. Yeast is actually a fungus. It feeds on sugar and starches present in the dough or batter, and while it feeds, it produces carbon dioxide gas as well as alcohol. This process of yeast feeding and producing gasses is called fermentation, which makes the dough to rise.
In contrast to Baking soda working very quickly to produce carbon dioxide gas, yeast produces this gas very slowly and over a long period. So, for the dough to contain that gas, it will need to have a lot of structure and elasticity. That is why yeast doughs are kneaded over a long period to create that strong and elastic gluten structure to contain the gases that the yeast is producing.
If you're halfway through baking a cake only to realize that you're out of baking soda, hopefully, you have some of these ingredients lying around your pantry instead.