Are you looking for an iced tea maker? In this article, we will talk about the top 10 best Iced tea makers in the market today.
Few drinks are as healthy and delicious as tea.
This drink, which has been around for thousands of years, is also one of the most popular beverages globally, being far more popular than coffee in places such as Australia, the UK, most countries in Asia, and more.
Even in countries where tea doesn't seem to be in high demand, such as America, Canada, or Mexico, this beverage is still fairly popular.
While heavily sweetened iced tea is not good for you, it's still a delicious drink that is perfect for hot summer days.
Unsweetened tea, on the other hand, is fantastic for you as it helps you stay hydrated while helping you reduce your sugar intake, all while providing different benefits depending on the type of tea you drink.
While making iced tea is relatively easy, there are ways of making it even easier and in larger quantities, which is excellent news for the tea lovers out there.
Wondering what we are talking about?
Iced tea makers, of course!
BUYING GUIDE
Choosing the right iced tea maker boils down to what your needs are.
Most tea makers do the same thing, albeit with different degrees of precision, which means that you should keep an eye for the following characteristics:
PITCHER SIZE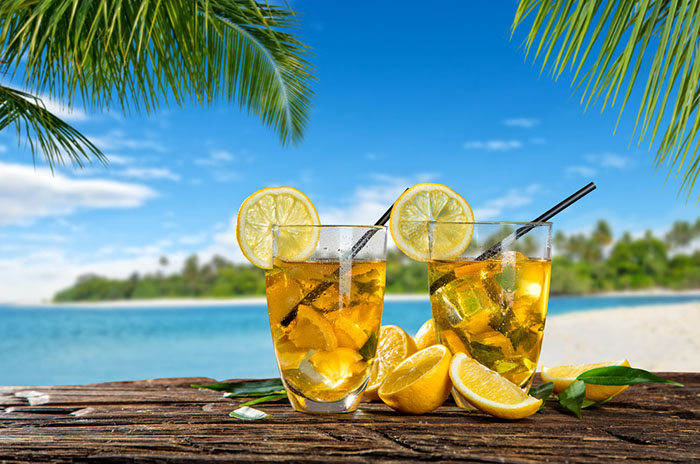 The size of the pitcher included in each tea maker is one of the most important considerations for you to make.
Are you making tea for your entire family, or you're only making it for yourself?
If you're making it for yourself, are you a big iced tea drinker? Will you finish a whole pitcher by yourself?
If you plan on storing your leftover tea, will it turn bitter if you don't drink it before the day is over?
It is important to keep this in mind that the design of some electric pitchers makes it harder to brew tea if you're not filling the entire thing, but the pitcher is too large for a single person, teas can go bitter if you keep them in the fridge for too long.
Think about how much tea you drink and how often and then choose a brewer with a pitcher that reflects that.
BREW STRENGTH SELECTION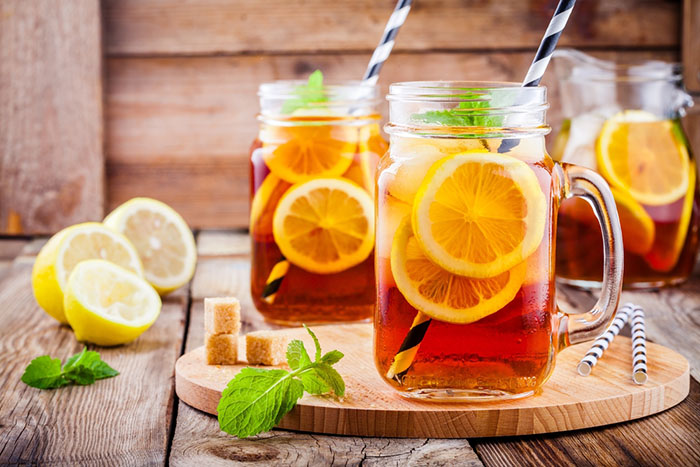 The strength of a brew is crucial for iced tea, as the tea tends to be watered down after adding ice.
Most electric tea brewers have built-in functions that let you choose the brew's strength, but you can also find manual iced tea makers that don't have such an option.
As you can imagine, the tea makers with this option are often more expensive, so decide whether you're willing to pay a bit extra for this function.
OTHER FUNCTIONS
Iced tea makers are getting more and more technological each day, which means that what used to be a rather simple process can now have a lot of options, some of which are more useful than others.
For example, auto shut-off functions will turn off the machine if you don't do it yourself, which makes them perfect for forgetful people or those who leave in a rush.
Auto start-functions are decadence in the palm of your hand, as they allow you to program your tea maker to make your tea exactly like you like it, go to bed and wake up to a freshly brewed cup of tea.
Sweetener trays allow you to program your tea maker so that it sweetens your iced tea automatically.
And so on.
When choosing an iced tea maker, make sure to take a look at the functions it offers, and consider whether you need them.
You'll be able to save good money by avoiding the functions you don't need.
Now that you know what to look for in an iced tea maker, it's time to look at the best models the market has to offer.
We've compiled a shortlist of the top 10 best Iced tea makers to make things easier for you.
Check it out!
BEST ICED TEA MAKERS REVIEWS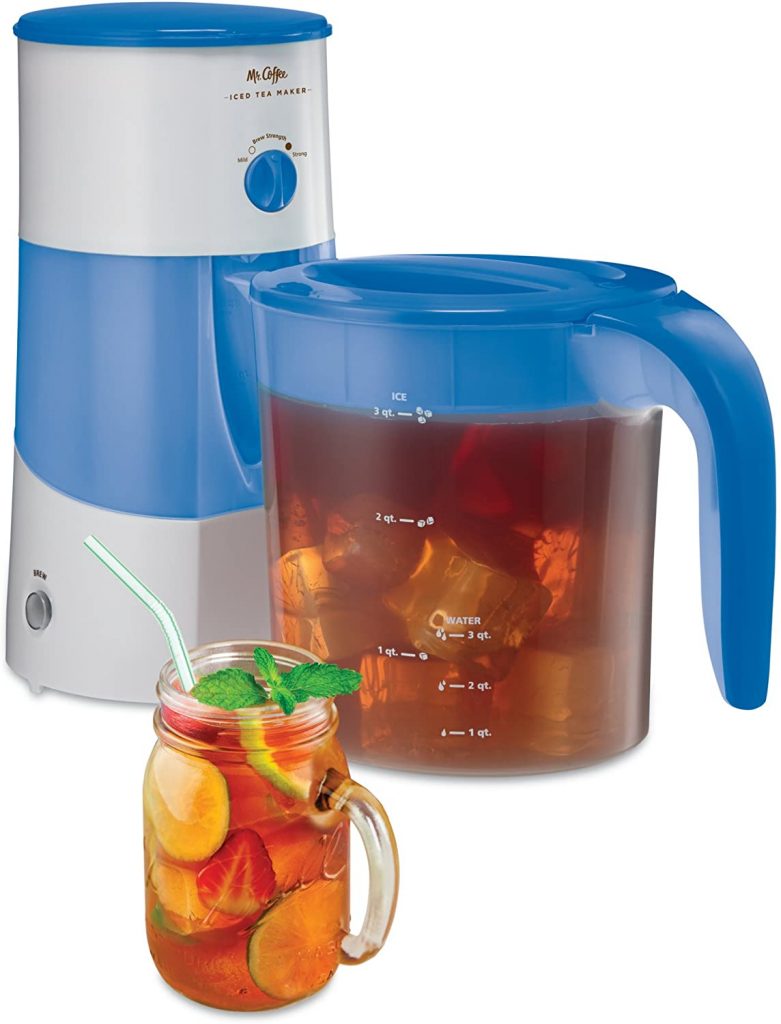 With adjustable strength control, which allows you to control how strong you want your brew, an automatic shut-off function that guarantees your safety even if you forget you were brewing tea, a large capacity pitcher, and more, MR. COFFEE TM70 truly deserves a spot on this list.
It's easy to use, but it's also easy to care for, making it an excellent choice for those of you who haven't used an iced tea maker before.
It comes with a removable brew basket, that lets you use loose tea or tea bags, a dishwasher safe 3-quart pitcher and a small recipe book to help you level up your tea brewing game.
Made entirely with BPA free plastic, this brewer is lightweight, easy to store, and a great addition to any kitchen.
Perhaps the coolest thing about this machine is how it works. It brews tea normally, but only a small quantity. The rest of the water comes from ice cubes that you place in the pitcher before brewing.
That way, whenever you're ready to make iced tea, you need to fill the pitcher, set your tea to brew, and step away, knowing you'll have perfect tea ready to be stored in the fridge.
Pros
Affordable
Easy to use
Easy to clean
Large capacity
Cons
It has a problem brewing properly if you close the lid too tight.
Leaks easily if overfilled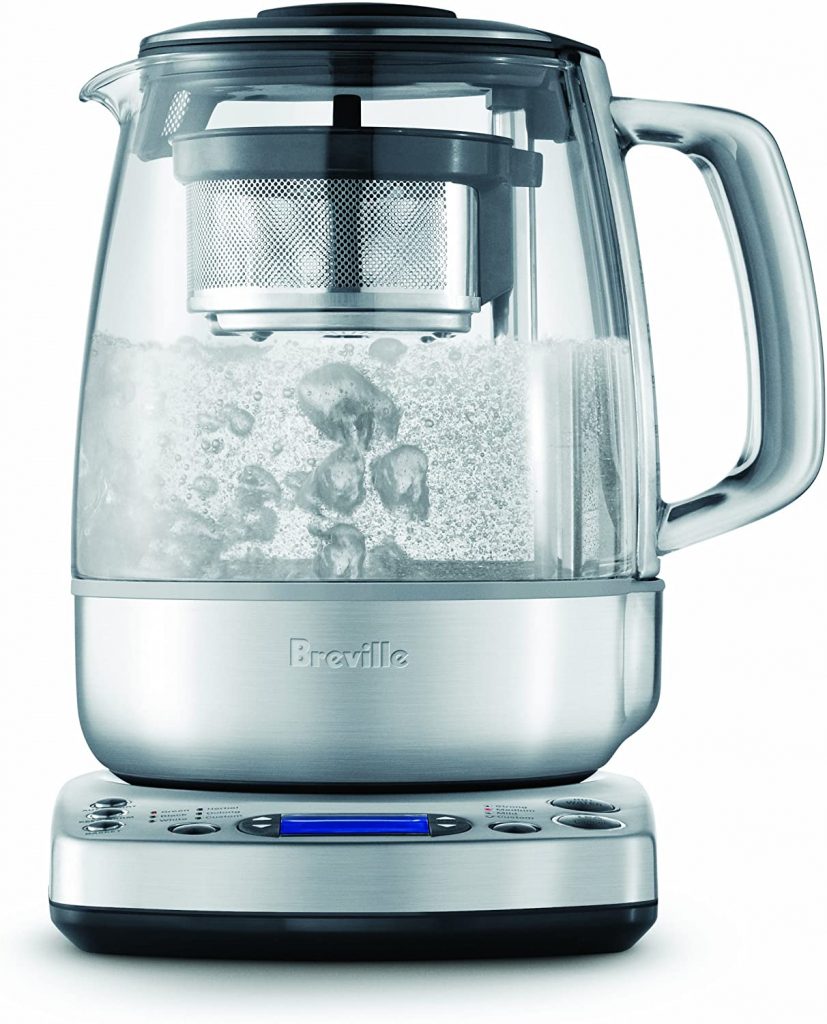 This is, by far, the most expensive product in this list, but it's also the most impressive, thanks to the variety of functions it has, which removes all possible guesswork and leaves a perfect cup of tea, be it hot or cold.
One of the most particular things about the Breville is how the tea basket moves up and down, allowing it to brew faster and better.
You can choose not only different brew strengths but also different temperatures, which will let you brew all kinds of tea to perfection.
Our favorite thing is the auto-start function, which lets you leave everything prepared so that the tea starts brewing on its own, allowing you to sleep in and wake up to a perfect cup of tea.
There are more things this beautiful tea brewer can do, and they're all effortless to do, thanks to the fact that this machine is easy to program, meaning you'll be using it like a pro in a matter of seconds.
Last but not least, the included pitcher is very sturdy, but not unbreakable, which is a shame because no replacements are being sold online unless you contact the manufacturers.
Pros
Versatile
Very reliable
Full of very useful functions
​Easy to clean
Makes high quality tea
Auto start function
Cons
Replacement not easily available
The holes in the basket might be too large for some.
Would you like to enjoy a whole pitcher of your favorite iced tea less than 10 minutes after you've set it to brew?
With the Hamilton Beach 40911, you can do it!
This beautiful and practical 2 quart iced tea maker is perfect for when you don't have a lot of space in your fridge and your counters. The pitcher can be easily stored in the fridge door, and the brewer is small enough that it can fit comfortably just about anywhere.
It comes with an automatic shutoff function, adjustable brew strength, and the ability to use both tea bags and loose tea.
It works very similarly to some of the items in this list by brewing hot tea directly over iced tea, but it works much faster, allowing for a full pitcher to be ready in less than 10 minutes.
One of the nicest things about this brewer is that the instructions are printed right there on the side of the brewer, which means that you will never lose the instructions, and if you have any guests, they can start brewing their own tea in no time.
Despite being made almost entirely with BPA free plastic, this machine is no dishwasher safe and should always be hand washed.
Pros
Very practical and easy to store
Large
Comes with auto shut-off and brew strength selection choices
Looks great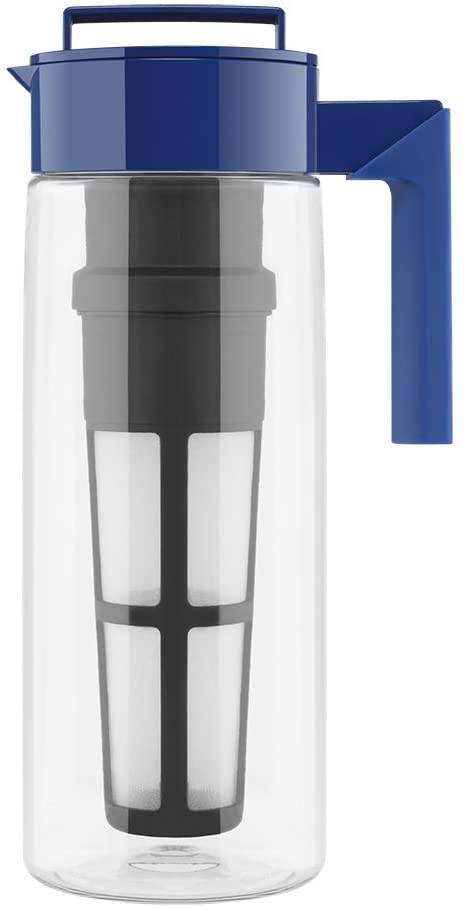 Available in 4 distinct colors, this quirky and beautiful iced tea maker is unlike any you've seen in this list.
This isn't a pitcher attached to a brewer but rather a brewer that goes in a pitcher, which makes it the easiest to store and carry around in this list.
While it's only 2 quarts, this brewer is really tall, which means it might not fit comfortably in your fridge. However, this isn't a design overlook but rather a plus, as the large capacity allows you to add more ice and chill your tea much faster.
So how does the flash chill process works?
Place your tea leaves in the basket
​Fill the pitcher about halfway with hot water
​Insert the basket in the pitcher and let your tea brew
Fill the rest of the pitcher with ice
Shake vigorously until the ice is gone
And you're done!
If you'd like to add sugar, pour it in before the ice, shake so that it dissolves and add as much ice as needed.
Due to its design, this brewer works much better with loose leaf tea, but it might just do the trick with bagged tea if you're in a hurry.
The biggest downside of its design, other than just how tall the pitcher is, is that the brewing basket is rather hard to clean.
Pros
Affordable
Looks great
​Cools tea quickly
​Easy to store
Easy to use
Cons
Not dishwasher safe
Very tall, which might be a problem for your fridge
Hard to clean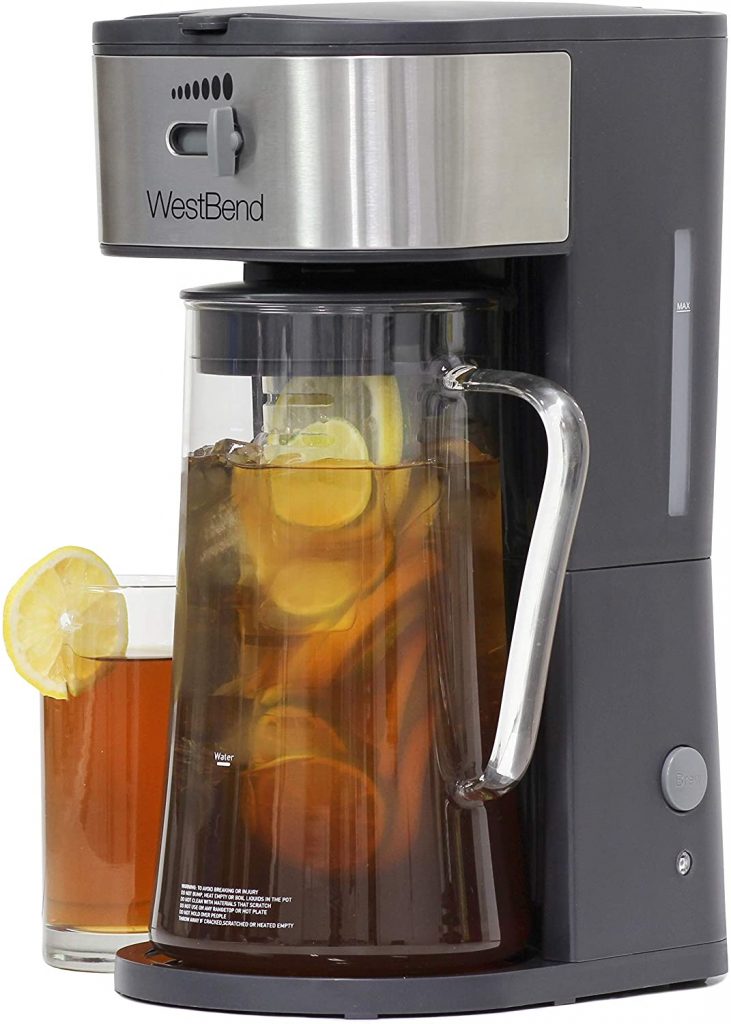 There's nothing about this tea maker than we don't like.
From the sleek and modern look that turns this from a regular iced tea maker into an appliance we all want to own, to the amazing tea it brews, this is one of the best tea makers out there.
This tea maker lets you not only choose the strength of the brew you want, but it does so quickly. So fast, that you'll barely have the time to do anything else while you wait.
Our favorite thing is the beautiful glass pitcher it comes from, which looks fantastic empty or filled with tea.
That said, the pitcher is a bit too tall, so it might be a problem to put it in your fridge unless you make plenty of space.
There are some issues with the lid becoming a bit lose after being in the refrigerator, but it does not cause too many problems.
Consider this ice maker if you'd like to own a reliable tea brewer that you can keep in your counters to show off and use.
Pros
Looks fantastic
Comes with an elegant glass pitcher
Removable filter
Gives you control over brew strengths
Cons
The lid becomes a bit lose when cold
Both the brewer and the pitcher can be too tall
This is probably one of the sleekest looking iced tea makers on this list. To some, it may look like an experiment beaker from a laboratory, but OVALWARE RJ3 is perfect for making cold refreshments.
RJ3 Cold Brew Maker is dishwasher-safe and BPA-free. Its extra-thick glass provides maximum temperature stability, and its airtight seal locks the freshness and flavor for up to 2 weeks. It fits perfectly within your fridge shelves.
The large handle makes it easy to grab, and the spout makes pouring easy. Measurements label along the side is very helpful when you are following a recipe and need to add a precise amount of water or other liquid.
Its double-mesh stainless steel filter can hold both loose leaf tea or tea bags. You can use it as a traditional teapot to Brew it hot or brew it cold in the fridge. RJ3 Cold Brew Maker takes your brewing skills to the next level.
Pros
Stainless Steel Filter & Cap
BPA-Free Silicon Airtight Seal
Measurement Label
Dishwasher-Safe
Cons
The carafe is fragile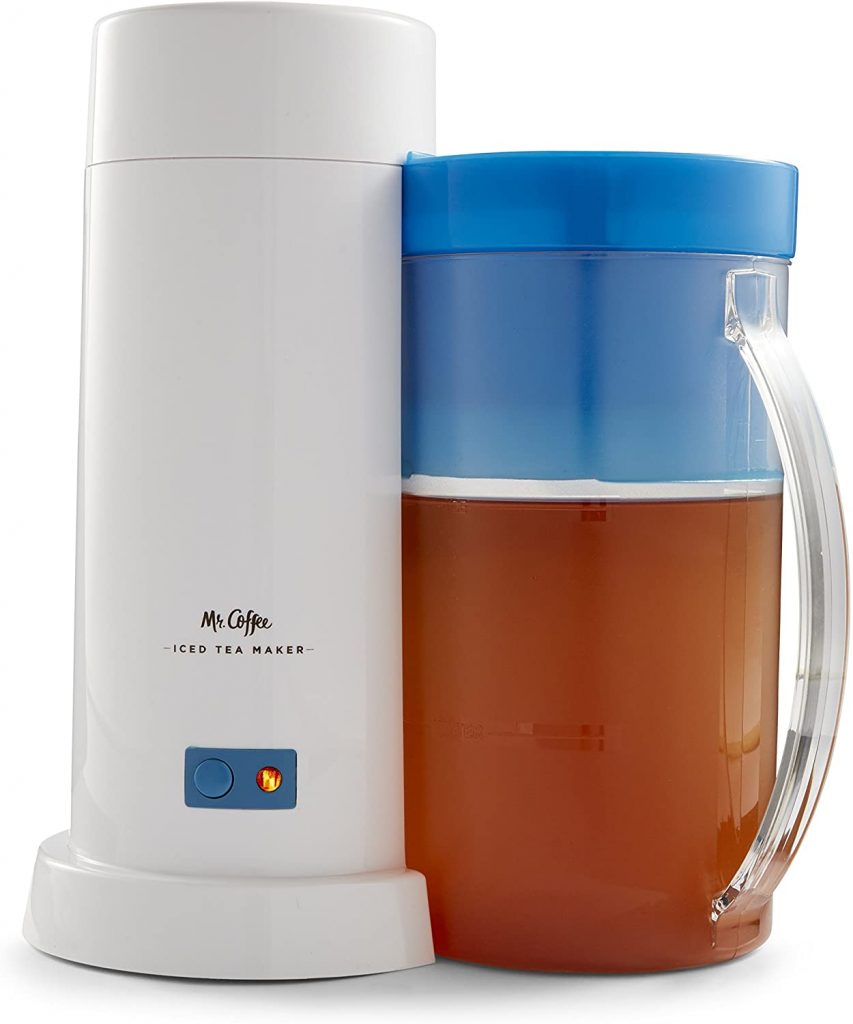 This affordable, superb electric brewer by Mr. Coffee lets you make your favorite type of iced tea easily and quickly. Fresh, home-made iced tea has never been easier.
Mr. Coffee TM75 Iced Tea Maker comes with a removable steeping basket which is easy to clean. Its fast brewing cycle, make up to 2 quarts in just minutes and its Automatic shut-off feature shut it off when the brewing is complete, so you don't have to watch it. The pitcher is also very easy to clean.
You can use both tea bags or tea leaves to create refreshing iced tea drinks, whether you prefer traditional unsweetened tea or gourmet-infused flavors. It is effortless to use. Just add water, tea, ice, flavor ingredients, and brew! In about 10 minutes you can be sipping your custom-brewed iced tea.
Pros
Easy to clean
Brew both tea bags and leaves
Fast brewing cycle
Automatic shutoff feature
Cons
Not dishwasher friendly
Cannot set brewing time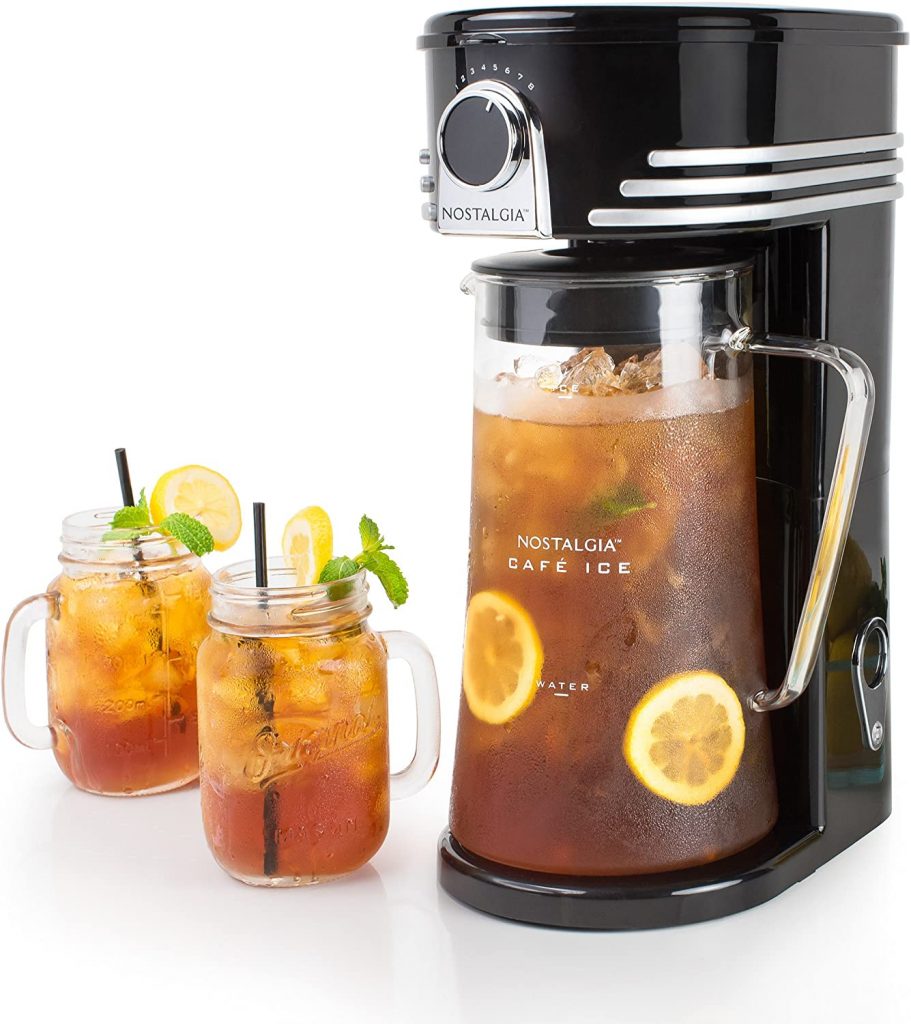 Nostalgia Iced Tea Brewing System is a high-end Iced tea maker. It allows you to brew your very own gourmet iced drinks just in minutes. With this unit, you can also make iced coffee, iced lattes, iced tea, and more.
It is also effortless to use. To make iced tea, simply place loose tea leaves or tea bags into the removable filter basket. Add your favorite ingredients like sweeteners, citrus slices, and herbs to enhance the flavor.
You can choose your brew strength using the selector dial. It has a showerhead that is designed for complete saturation and optimal flavor extraction.
Now turn the unit on, and it will automatically turn itself off when brewing is done, so you can walk away and come back when you're ready.
It also comes with storage space for the power cable, which is great for storing the unit neatly.
Pros
Sleek design
Simple operation
Shuts off automatically
Strength selector
Makes a variety of iced beverages
iced ingenuiTEA by Adagio Teas is probably the most convenient teapot you will find anywhere. It is perfect for travel, easy to brew anywhere, and super fun to use (check the video below).
Making tea with iced ingenuiTEA is very easy. Use one or two teaspoons of your favorite tea and throw them into the pitcher. Add hot water and let it sit to brew.
When the tea is ready, place it on top of any cup or glass. It will cause a valve at the bottom of the pitcher to release. The crystal-clear tea will flow down into the cup, while the mesh filter retains all the leaves.
To stop, lift the pitcher off the mug, and the flow will stop without any mess. It's very convenient to serve several people, or have several cups for yourself.
This portable cup-sized iced tea teapot is ideal for people who enjoy fresh iced tea. Once the tea is brewed, it can be drunk right out of the teapot. It comes with a textured handle that fits perfectly in hand.
Iced ingenuiTEA is Super easy to clean and dishwasher safe. It is 100% BPA-free and made from a plastic specially-formulated to be safe in hot-temperature applications. The filter basket is stainless steel.
Pros
Portable
Dishwasher safe
Fun to use
100% BPA-free
Cons
You will need to read the manual to take it apart for cleaning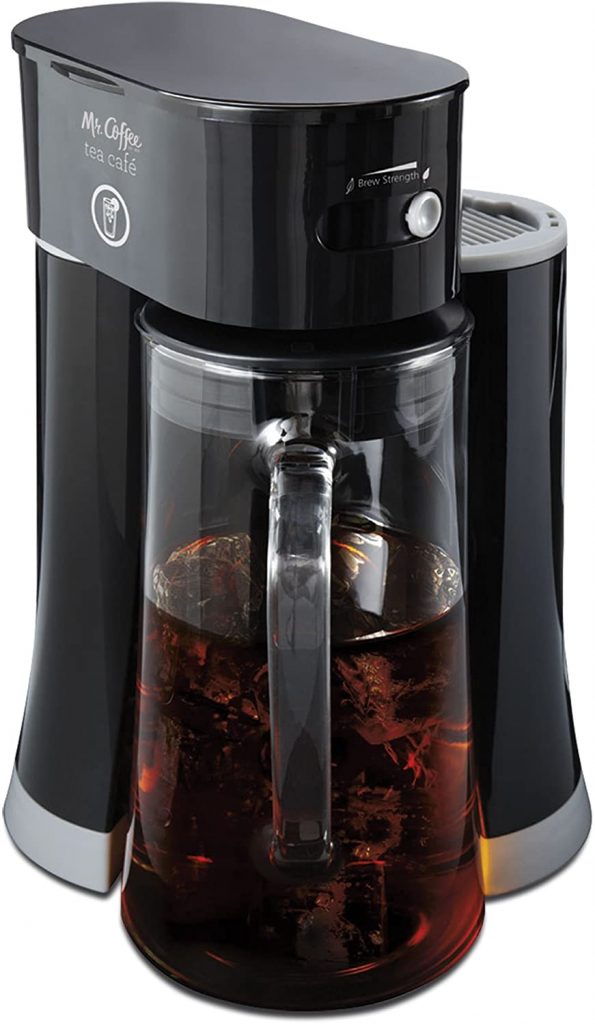 Mr. Coffee is a pioneer in coffee and tea brewing. They invented the automatic drip system 45 years ago, which changed home brewing completely. Decade after decade, they continue to innovate new features, brewing methods, and designs to delight the taste of coffee and tea drinkers.
Mr. Coffee 2-in-1 Iced Tea Maker comes with an adjustable strength selector that allows you to brews tea bags or tea leaves to the strength you like.
It also has an automatic shut off feature, so it shuts down automatically once the brewing is complete.
Its 2.5-quarts glass pitcher and lid are dishwasher-safe for easy cleaning. It also comes with a permanent filter basket, so you don't need to add a paper filter. Simply lift it when you need to clean it.
The water reservoir has a window so you can see the exact water level as you fill.
Pros
Brews both tea bags and leaves
Fast brewing cycle
Includes Permanent Filter Basket
Brew strength selector
Dishwasher safe
Auto shut off
Cons
Not portable
Glass pitcher can be fragile
WHAT' THE BEST ICED TEA MAKER?
​Though many of the above reviews, the Breville BTM800XL Tea Maker stands out as the clear winner. I strongly recommend this iced tea maker because it combines all of the benefits of the previous makers into one affordable package. It's also the most impressive and powerful tea maker.
​
What do you think about those reviews? Please let us know which one is your favorite iced tea maker in the comments section below.
Thanks for reading. ​
5 Refreshing Iced Tea Recipes