What is Pizzelle?
Pizzelle are beautiful Italian desserts that have little to do with pizza, yet they're just as delicious.
Pizzelle originated in Italy in the 8th century. It got its name from the Italian word for round and flat. It is still a traditional dessert in Italian families and often served at Christmas and Easter.
Similar to waffles, Pizzelle are made with flour, eggs, sugar, and butter and can be served either crisp or soft, depending on the preparation method and preferred style.
They can be shaped in different ways, but the most popular are straight out of the press, which explains why Pizzelle makers often have beautiful designs on their plates.
If you're thinking about purchasing a Pizzelle maker to make this delicious dessert more frequently, you've come to the right place.
Today, we're going to tell you not only what to look for in a Pizzelle maker, but also what are the best Pizzelle makers in the market, so you can buy the very best.
What is a Pizzelle Maker?
A Pizzelle maker is similar to a waffle maker. It has beautiful, intricate designs imprinted on the plates. Just like a waffle maker, you pour your batter into these electronically heated plates and close them. Open them up, and you have delicious, attractive Pizzelle. Pizzelle makers come in both non-stick coating or uncoated cast aluminum finish.
Cast aluminum pizzelle makers are more durable than non-stick ones, but they will require greasing. With a pizzelle maker, you can make thin and crispy or soft and chewy pizzelle depending on your personal preferences.
Buying guide
Making pizzelle isn't that hard, but it can be quite time-consuming.
To make the best pizzelle, you'll need the best tools, and the best tools are determined only by your needs.
Keep in mind the following things when you're out browsing for the best pizzelle makers: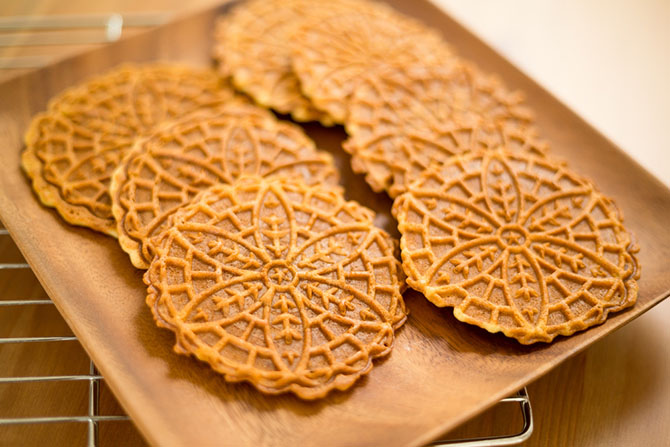 Electronic or Manual
It depends on your personal preference again. Electronic pizzelle makers come with a built-in heating element and temperature control to bake the cookies. Electronic pizzelle makers are cheaper and effortless but not as durable as a handheld one.
Manual or handheld pizzelle makers are usually made of cast-iron plates. They come with a handle to hold them over a stover burner or fire to bake your cookies. The handheld makers take a lot of effort and lack features.
Thickness
Pizzelle can come in various thickness, and this often depends on two things, the preference of who cooks them and the pizzelle maker used to create them.
Most manufacturers will list the thickness of the pizzelle in each of their products, so make sure to pay attention to this as simply adding more or less dough won't do the trick, as it can burn the pizzelle or cause the batter to overflow.
The shape of the pizzelle maker often plays a part in this too. Rounded edges often lead to thicker 'cookies' while scalloped or decorated edges often result in thinner, crispier pizzelle.
Size and Number
While most pizzelle makers out there are designed to make two pizzelle simultaneously, other models can cook three or even four pizzelle with a single press.
The resulting pizzelle are often smaller, but if you're cooking a lot of these 'cookies', you'll find it's more practical to cook a large number of them at the same time, even if they're smaller.
Here, the decision you need to make is between the size of the pizzelle and how many you'll be cooking at any given time.
Shape
We've mentioned that pizzelle makers often come with beautiful designs and use to create eye-catching desserts.
Do you prefer scalloped edges or round edges?
Do you want your pizzelle to be perfectly round or oval?
Do you want your pizzelle to have the traditional flower design, or you're more of a fan of stars, harps, or other patterns?
Keep an eye on the features of your pizzelle maker, sure, but don't forget to take note of the shapes they have. After all, you don't want to buy a fantastic pizzelle maker only to discover you don't like its design.
Easy to clean
The batter for your baked goods can be a nightmare to clean if they get stuck on the plates. So, pick a pizzelle maker with a non-stick surface. With a non-stick coating, you can easily wipe away the mess with a damp cloth. Some pizzelle makers have removable plates that you can take them out and wash them in the sink.
Price
The price of an electric pizzelle maker varies from $40 – $75, while manual or handheld models generally sell for $50-$75.
Now that you know what to look for to buy the best pizzelle maker for you, it's time to see what the market has to offer.
Let's get started!
BEST PIZZELLE MAKER REVIEWS
This small, yet reliable, pizzelle maker makes two thin pizzelle about 4 inches in size, both with a traditional flower pattern.
What's not traditional is the shape, as it comes without handles, making it harder to use than the regular, straight to the point, pizzelle. However, it does come with a locking lid that ensures your pizzelle are evenly cooked and browned.
Unlike other models, this particular one comes with an indicator that lets you precisely know when the pizzelle are ready and even comes with different browning levels to ensure you get the perfect results.
The non-stick plates are easy to clean, but they're not removable, so you're going to have to clean it by hand. Remember to do this only when the machine has gone cold.
While there is a timer system that lets you know when the pizzelle are ready, there's no sound or signal that lets you know it's time to take them out of the maker. Hence, you need to keep an eye on it at all times, which can be quite monotonous and even cumbersome, but other than that, you won't have any problem using this machine.
That said, there's a small warning you need to keep in mind: This machine operates in a 120V range, so if you live in certain countries, you'll need an adapter to use this pizzelle maker.
Pros
Easy to store
Easy to clean
Easy to use
Cons
There's no alarm or warning to let you know your pizzelle are ready other than a green light.
Can cook two small (4 inches) pizzelle.
Not dishwasher safe.
No handles.
If what you're looking for is to create many beautiful pizzelle in a short amount of time, this pizzelle is perfect for you.
The cookies made with this machine are rather small (3 inches), but if the size isn't a problem, then we recommend this maker, as it will crank several batches of gorgeous pizzelle with no problem.
It comes with a steam guard that keeps your hands safe from the heat. Extra thick baking plates make sure everything is cooking evenly. Non-stick grids and surfaces make cleaning this machine a piece of cake. The handles will remind you of the traditional stovetop pizzelle makers, albeit shorter.
While the handles can make the pizzelle maker harder to store, we're in love with them because it allows you to open and close the press without any risk to your hands. A must if you're looking to cook pizzelle and cooking them fast.
This pizzelle maker is very easy to use, but there's still a bit of a learning curve. So, take the time to practice how to center the dough and press everything evenly to make sure the miniature pizzelle come out perfectly.
The press is larger than other models, but it cooks more pizzelle, so that's to be expected. It's also not dishwasher safe, as the plates aren't removable and need to be washed by hand.
Pros
Cooks very fast (1 minute, tops)
Cooks up to 4 cookies at the same time
Easy to clean
Beautiful design
Cons
Very small pizzelle
​Not dishwasher safe
Has a learning curve
Will burn your pizzelle if you're not paying attention and don't move fast enough.
If you love classics, then you're going to love this beautiful pizzelle maker, built with cast aluminum plates that heat up quickly and make perfect pizzelle.
This is a classic pizzelle maker, which means you'll have to use it on the stovetop. Yes, it takes longer, but it's the best way to cook traditional pizzelle, not only because of the size but also because of the perfect browning you can only get with conventional presses.
The use of aluminum for the plates means that it heats up quickly and cooks just as fast but also that it's easy to clean, resulting in basically no sticking at all. Since it's a traditional maker, there's no need to wait for it to heat up again.
Pour your dough, press, wait for the pizzelle to be ready, remove and start again. There is no need to wait for the press to reheat.
As you can imagine, this pizzelle maker comes with no indicator whatsoever, so you'll have to be there in the kitchen paying attention to all that's happening, which can be a problem for some.
However, if you're willing to dedicate your pizzelle the time they deserve, rest assured you'll have a fantastic tool at your disposition.
A word of caution for those who love their pizzelle paper-thin, this maker makes cookies a little thicker than expected, so keep that in mind.
Pros
Easy to clean
Easy to use
Cooks pizzelle very fast
Cons
Non-electrical
No way of knowing when your pizzelle are ready other than trial and error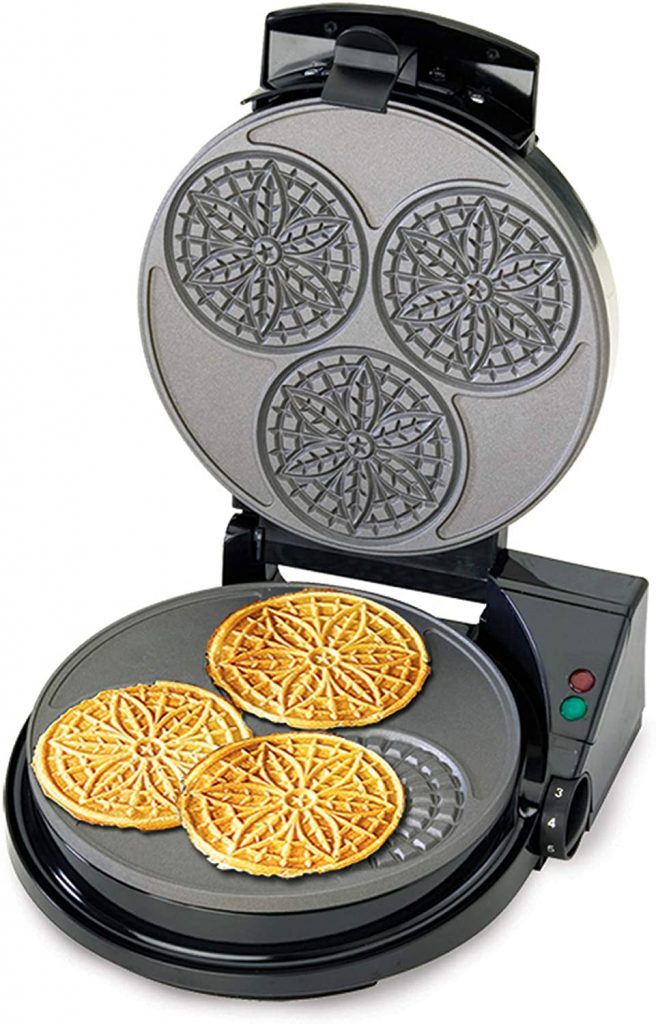 Don't let this beautiful pizzelle maker fool you. It doesn't cook one gigantic pizzella but cooks three 3-inch pizzelle at once, all in less than a minute.
This pizzella is perfect for when you're planning on cooking a large number of pizzelle in a short amount of time. It's also a right choice for those of you who are looking for an easy to store machine, as this one is 9 inches wide, 10 inches deep and can be stored upright, thanks to the fact that its cord is perfectly wrappable.
It heats up fast and stays hot, which means that it will cook a lot of pizzelle with perfect browning. That said, it's not particularly good at cooling, so keep it out of reach whenever you're done using it.
This maker comes with a recipe book, a batter spoon, and a beautiful wooden cannoli-dowel, which means you can use this pizzelle maker to make delicious cannoli!
This pizzelle press uses the red/green light system to let you know when your pizzelle are ready, but it comes with no sound alarm of any kind, so you'll have to stay near it the whole time. Luckily, this isn't much of a problem as it cooks the pizzelle in one minute, tops.
Pros
Very fast cooking
Stays hot for a while so that you can cook batch after batch
Easy to store
Cons
Doesn't cool down quickly so be careful with it after using
Hard to clean
No handles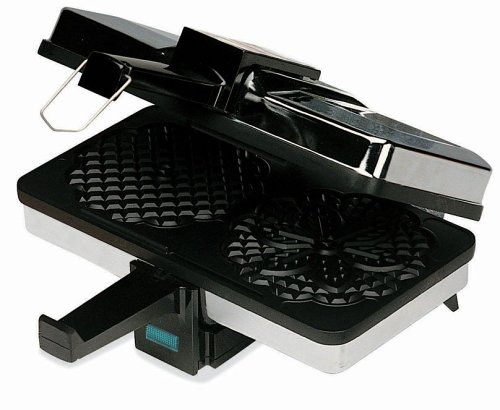 If what you're looking for is simple and straight to the point pizzelle maker, this is the one for you.
It can cook two 5-inch pizzelle in less than a minute. This is not only one of the fastest in this list, but it's also one of the largest, as 5 inches is nothing to scoff at.
It comes with a steam guard that prevents you from burning your hands when using it, but the handles are too short for our liking. However, this does mean that this pizzelle maker is very easy to store, as it can be placed upright and takes up very little space.
The handles also come with a metal hook, but while you may be tempted to use it to hang the pizzelle maker somewhere to save storage space, you shouldn't, as this is used to hold the plates together, ensuring even and quick cooking.
The plates come with the traditional flower design, also known as Fiori pattern, and are non-stick and easy to clean.
The non-stick properties also mean you won't have any problem getting perfect pizzelle every time, but only once you learn how to season the machine properly. However, the same could be said of any other pizzelle maker.
This pizzelle maker also works with the light system, which means you'll have to pay attention to the light all the time to know when your cookies are ready to go. That said, it does cook pizzelle very quickly, so this won't be that big of an issue.
Pros
Cooks very fast (less than a minute)
It can cook two large pizzelle at the same time.
​Easy to clean
Beautiful design
Easy to store
Cons
Not dishwasher safe
Has a learning curve
Will burn your pizzelle if you're not paying attention and don't move fast enough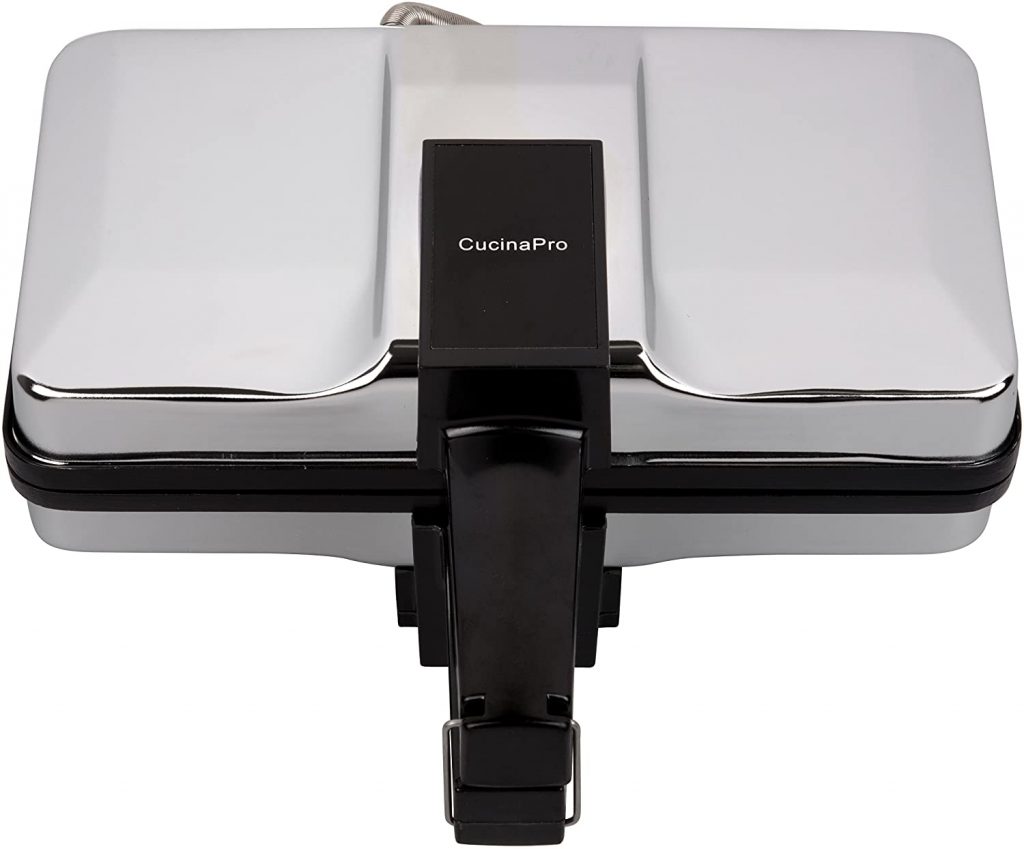 CucinaPro Mini Italian Pizzelle Maker can cook four 3.25 inches mini Italian cookies at once. Its food-grade non-stick baking grids make cooking and clean-up easy. It is well-designed, sturdy, and the plates heat up very fast and cook delicious, authentic pizzelle cookies in just minutes.
This pizzelle maker comes with a steam guard to protect your hands, and its extra-thick baking plates ensure even heat distribution for crispy brown results.
It is super easy to set up, use, and clean. It comes with a helpful guide with tasty recipes and cooks pizzelle in 45-60 seconds.
So, if you are looking for a pizzelle maker that is portable and compact, CucinaPro Mini Italian Pizzelle Maker is the best option to take into consideration.
Pros
Non-stick baking grids
Easy to use
Very easy to clean
Cooks fast
Steam guard protection
Cons
Makes small pizzelle
Cooks uneven pizzelle if pressed down incorrectly
Runs on 120 volts only
With CicinaPro Polished Pizzelle maker, you can cook two 5 inches pizzelle at once. The baking plates come with two unique designs and are extra thick to ensure that the heat is evenly distributed. Like other CicinaPro pizzelle makers, it has a steam guard to protect your hands from accidental burns.
The polished aluminum version of this Pizzelle iron is a great choice to avoid the issues associated with non-stick coatings found on most other modern irons. It heats up quickly and cooks quickly, within 30 to 45 seconds.
Although the unit is hand wash only, it is easy to clean.
Pros
Great patterns
Perfect for cooking healthy cookies or waffle cones
Polished baking grids
Built-in steam guard
Cons
No built-in timer
Non-removable plates
The Toastmaster Pizzelle maker gives you two cookie patterns. It bakes two 4-inch pizzelle/cookies at once under a minute. Its non-stick interior makes it easy to remove the pizzelle and clean once done.
Its cool-touch exterior never heats up, which makes it very safe to use around the kids.
The toastmaster spreads heat evenly for the best results and probably the best-looking pizzelle maker in the market.
Pros
Two unique patterns
Non-stick baking plates
Heat resistant exterior
Spill-proof
Cons
Doesn't offer temperature control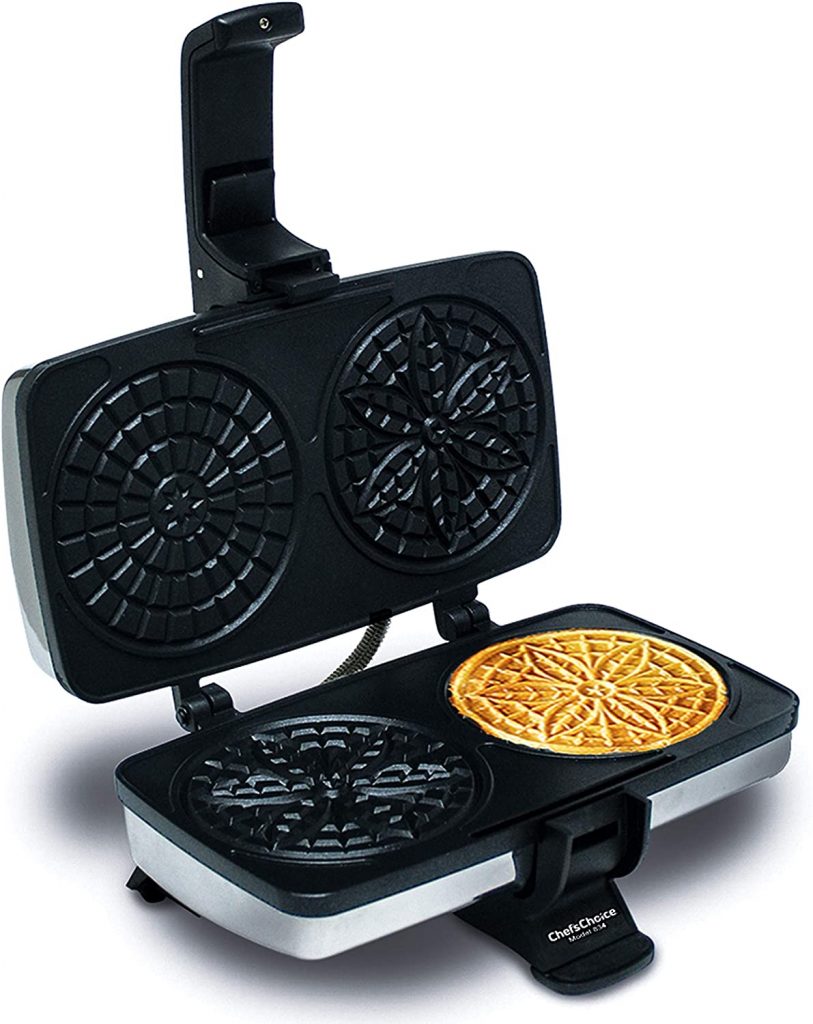 Chef'sChoice 834 is the perfect pizzelle maker to buy if you are looking for a reliable and functional pizzelle-maker without spending a fortune. It is affordable, packed with features, and makes thin, crispy, great pizzelle.
Its instant temperature recovery reduces your baking time, as you can prepare more pizzelle in less time. It can make two 4-3/4-inch pizzelle in under 30 seconds.
Because of its non-stick baking surface, it is easy to remove the pizzelle once they are cooked.
It also features a Locking latch, which allows you to close the lead tightly and spread the heat evenly. You get uniform thickness and perfect batches every time.
Chef'sChoice 834 pizzelle maker also has a baking indicator light that shows you when your pizzelle are ready. Thus, you do not need to keep opening the lead to check if the pizzelle are cooked or not.
Pros
Instant temperature recovery
Cooks fast
Non-stick surface
Locking latch
Baking indicator
Cons
It doesn't make thick pizzelle
The lock is not very sturdy
This one is a classic. This Norwegian handheld waffle Iron makes perfect thin Italian pizzelle. It does not require electricity and can be used on gas, electric, and ceramic stoves. Nordic Ware Norwegian Krumkake Iron is made of warp-resistant food-grade cast aluminum and comes with a lifetime warranty.
It has beautiful patterns of flowers and leaves imprinted on the plates.
If you like to make pizzelle the old fashion way, I highly recommend that you get this iron.
Pros
Vintage style
Durable
Lightweight
Traditional Scandinavian cone-shape imprint
Cons
Manual labor required
Bakes one pizzelle at a time
Verdicts
Now you know how to choose the perfect pizzelle maker and also have seen the best of the best pizzelle makers that are out there.
You're now ready to cook delicious pizzelles for you and your family. Let us know which one did you pick up for your kitchen in the comments below.
Happy cooking!!
How to Make Homemade Italian Pizzelle Cookies
Ingredients
3 eggs, room temperature
3/4 cup of sugar
1/2 cup of butter/margarine
1 teaspoon of vanilla (optional)
2 teaspoons of baking powder
1 3/4 cups of flour
Direction
Put the flour and the baking powder into a sifter and sift it all into a bowl.
Beat three eggs and the sugar together in a large mixing bowl until fluffy.
Add the cooled butter to the egg and sugar mix and beat them again.
Add half a teaspoon of vanilla. This is entirely optional.
Now add the flour and baking powder to the mixture.
Mix it on low or medium because you don't want the flour flying everywhere.
The batter should start to get thicker, which is okay. You want it to get thicker. In the end, the dough should be stiff enough to be dropped by a spoon.
With a teaspoon place the batter (enough to make a fair size cookie) into the center of the mold.
Close the lid, and you will see steam coming out of your machine, which is fine. It just means that it's cooking.
Cook for about 30 to 40 seconds, depending on how gold or how you prefer them. Sometimes when the steam stops coming out of the machine that's an indication that the pizzelle are ready