Need a replacement for Teriyaki sauce in a recipe?
If you're cooking dinner and realize you don't have teriyaki sauce in your pantry that your recipe calls for then don't be so quick to dismiss that recipe. It's easy to make a quick substitution with something you probably have in the kitchen to make your own teriyaki sauce.
What is Teriyaki Sauce?
Teriyaki sauce is a sweet, shiny Japanese sauce used for marinating and glazing foods. The term "teri" in teriyaki means glazed or shiny, while "yaki" means grilled. Traditional Japanese teriyaki sauce is made from shoyu (soy sauce), sake, mirin (rice wine) and sugar.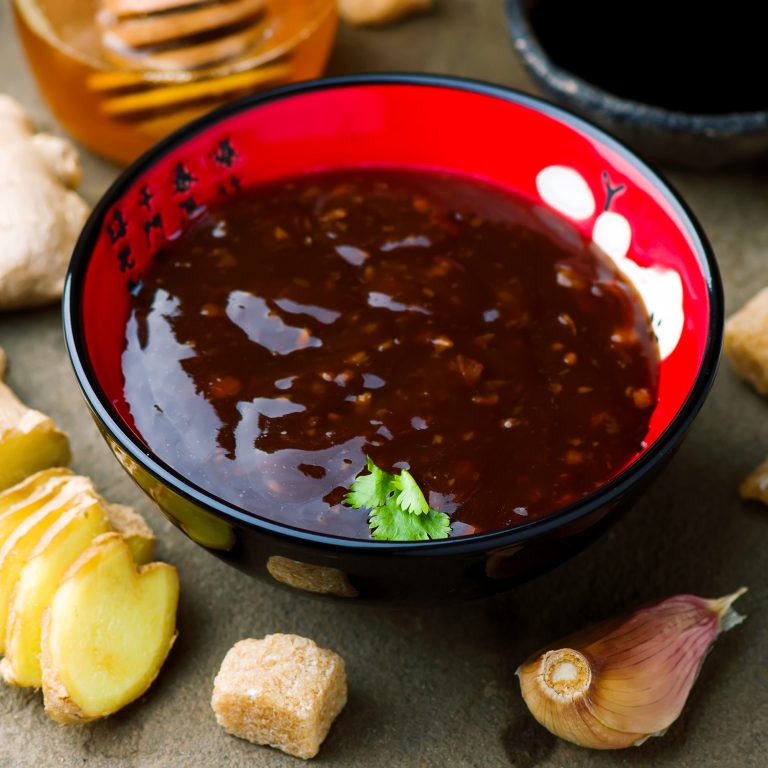 How does Teriyaki Sauce Taste?
Teriyaki sauce tastes sweet, sour, salty and savory.
Teriyaki Sauce Substitutes
The ingredients used in classic teriyaki sauce creates the salty, sweet, tangy taste. So, if you don't have soy sauce, mirin, sake or sugar at home you can still make Teriyaki sauce with the below substitutes to create those flavors.
Saltiness
The distinctive saltiness of fermented soy, a taste referred to as umami, is fundamental to teriyaki sauce. Good news is that any type of soy sauce can be used to form the basis of teriyaki sauce not just fermented soy. You can use dark, regular, tamari or reduced-sodium soy sauce for teriyaki's briny, earthy base. Alternatively, you can marinate meat to be grilled in ponzu, for teriyaki like results. For a soy allergy use fermented fish sauce instead of the soy sauce and taste before adding salt.
Sweetness
The sweetness in the teriyaki sauce come from the soy sauce and mirin (a sweet Japanese rice wine). Mirin also adds the sweet fruity taste. In the absence of Mirin brown or white sugar, molasses or honey can be used with the sake to add the sweetness. If you prefer to make teriyaki sauce without alcohol, you can mix rice wine vinegar or cider vinegar with soy sauce and sugar. Pineapple juice, sweetened citrus juices, like frozen lemonade concentrate and melted apple jelly can also provide the fruity sweetness characteristic of teriyaki sauce.
Zing
Tangy subtle spiciness of teriyaki sauce is described as Zing. To add Zing to your teriyaki sauce add grated onion, grated fresh ginger root, a few red pepper flakes and Asian spices like star anise. A quick substitute is anise-based Chinese five-spice powder, which also contains fennel, ginger, cloves and cinnamon.
How to Make Teriyaki Sauce at Home
The best substitute for Teriyaki sauce is to make it yourself. Here are the recipes for how to make Teriyaki sauce.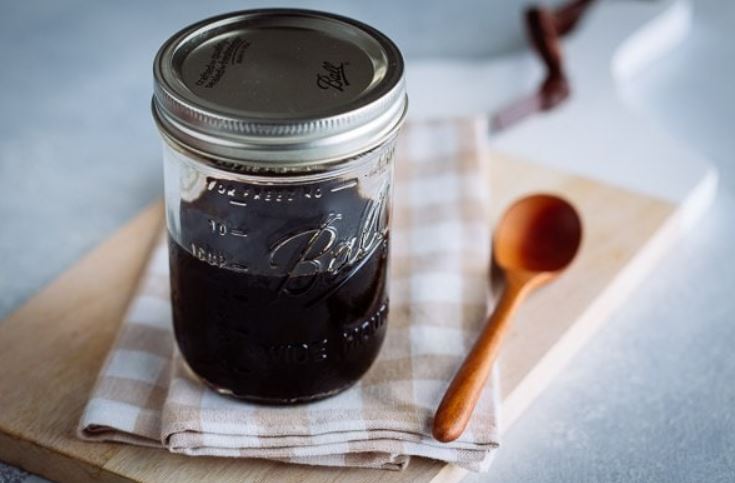 Easy Teriyaki Sauce Recipe
Ingredients
1 cup Water
1/2 cup Soy Sauce
1/4 cup brown sugar
1/4 cup Honey (1/3 if you want it sweeter)
1 tbs minced garlic
1tsp ginger
corn starch to thicken (use as desired)
Instructions
Step #1
First you are going to want to gather all your ingredients together. Once this is all done, you are going to begin to combine all the ingredients together starting with the wet ingredients. Then stir.
Step #2
Once all your ingredients are mixed together you are going to want to let it simmer on low boil for 5 minutes. At this point begin to add your corn starch which has been mixed with cold water to your teriyaki sauce. This will begin to thicken it until it reaches your desired consistency and thickness.
Step #3
After you have thickened your teriyaki sauce to your desired thickness, remove it from the heat and let cool at room temperature. NOTE: this sauce will thicken a bit more once it is cooled so make sure to take that into consideration when thickening your sauce.
Japanese Teriyaki Sauce Recipe
Ingredients
250ml Soy sauce (Naturally brewed preferred)
200ml Mirin (Japanese rice wine)
200ml Sake
60-90g White sugar
Instructions
Put all the above ingredients in a small saucepan.
Place the saucepan over medium heat.
Stir the mix for few minutes until the sugar dissolves. Don't let the mixture to boil.
Once the sugar is dissolved your Japanese Teriyaki sauce is ready.
Thick Teriyaki Sauce Recipe
Ingredients
Fresh ginger
1 clove of garlic
1 teaspoon sesame seed oil
2 teaspoons olive oil
50 g brown sugar
150 ml soy sauce
150 ml mirin
50 ml sake
Toasted sesame seeds
Instructions
Step #1
Cut a little piece of ginger and a little piece of Garlic both about 1.5 cm thick. Don't chop up the ginger or the garlic, otherwise too much of their flavors will come through.
Step #2
Put 1 teaspoon of sesame seed oil and 2 teaspoons of olive oil into a cooking pan. Turn on the heat to medium and warm up the oil. Add ginger and garlic and let it simmer gently for a few minutes until it turns brown a little. Add brown sugar. Stir and let it meld until it slightly caramelizes.
Step #3
Add soy sauce, mirin (Japanese rice wine) and sake. At this stage, the caramelized sugar may have solidified into lumps at the base of the pan. Keep stirring the sauce so that it fully dissolves into the liquid.
Step #4
Once all of the sugar has dissolved, lower the temperature. The sauce will start to reduce, this will take 15-20 minutes. Stir regularly to ensure the ingredients are well mixed. Once the sauce gets too thick and sticky, remove it from the heat immediately. For extra flavor and decoration, add a handful of toasted sesame seeds.
Spicy Teriyaki Sauce Recipe
Ingredients
½ cup soy sauce
½ cup water
¼ cup brown sugar
1 tablespoon chili flakes omit if you don't want spicy
1 tablespoon honey
2 teaspoons minced garlic
1 teaspoon minced fresh ginger
1 teaspoon sesame oil
3 tablespoons mirin
¼ cup cold water
2 teaspoons cornstarch
Instructions
In a small pot, add soy sauce, water, brown sugar, chili flakes, honey, garlic, ginger, sesame oil and mirin.
In a small bowl, swirl together cold water and cornstarch until you have a thin slurry. Pour into the pot and stir to incorporate.
Bring to a quick boil, then reduce heat and simmer 3-4 minutes to thicken and allow the flavors to develop.
Remove from heat, cool, and store in the fridge. Keeps a week or so.