These Easy Baked Ham and Cheese Sliders are one of my favorites! They are great for parties because you can assemble a dozen at a time really easily. The variations of these sliders are endless, but this one is a classic. Let me show you how I make them.
How to make my Easy Baked Ham and Cheese Sliders
While all of the ingredients are important, the rolls truly make this recipe special. These are Sweet Hawaiian slider rolls (typically found in the deli section of your grocery store).
They just give this recipe that certain soft, sweet bite. If you can't find them, any soft butter roll will work in a pinch. Slice the entire package of rolls in half as shown.
They come in packages of twelve, this recipe uses half of that package but feel free to double and make the entire thing!
Let's make the butter mixture!
This melted butter mixture is made up of butter, Dijon mustard, Worcestershire Sauce, Salt and Pepper. You can add onion and garlic powder as well if you'd like.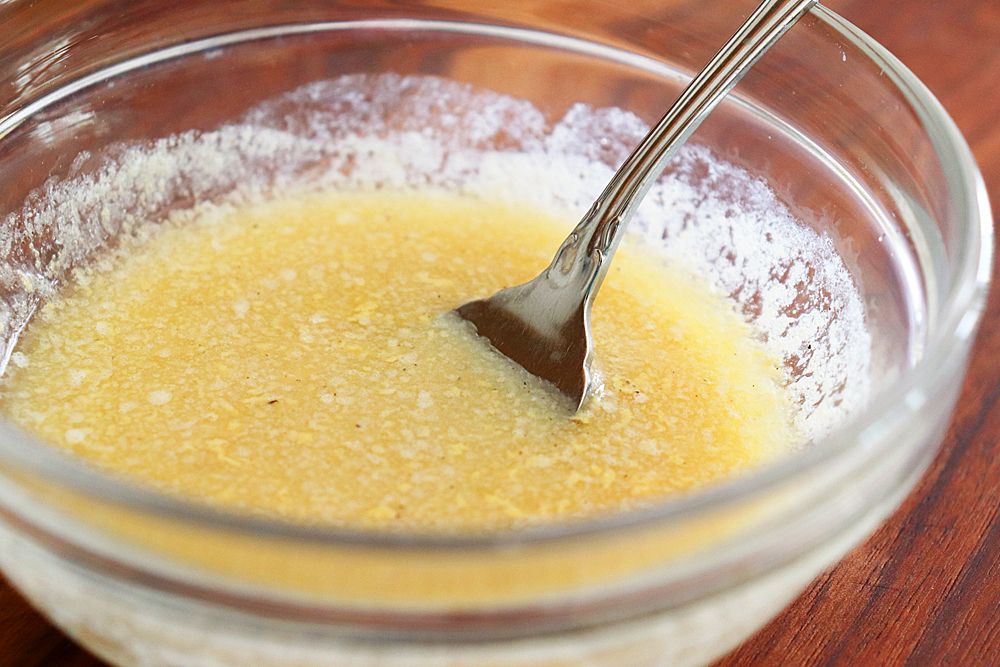 You'll be using this mixture a total of three times (so plan accordingly). The first is the bottom layer. I am a firm believer that all layers need to be delicious 🙂
CHEF'S NOTE: I simply buttered the bottom of this pan, but if you are using a metal or glass pan you may want to line with parchment or foil to ensure they are easily able to be removed.
Assembly time…
To that buttered bottom layer, add a layer a cheese, then a layer of the thinly sliced ham and finally, another layer of cheese.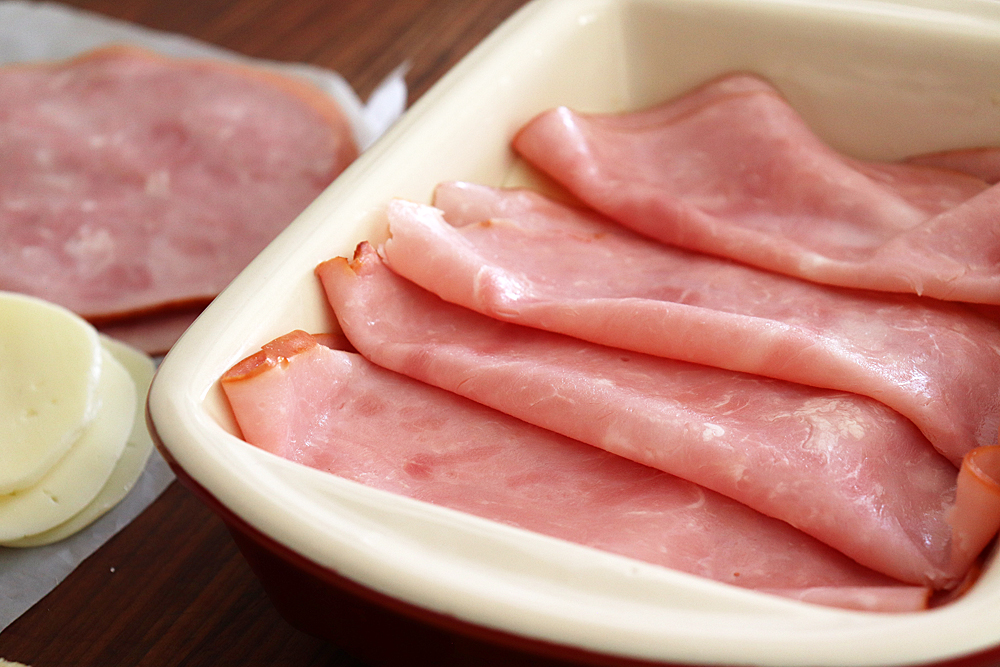 I am using Swiss here, but any melting cheese would work. I get these sliced at the deli so they are super thin. This really helps them melt quickly.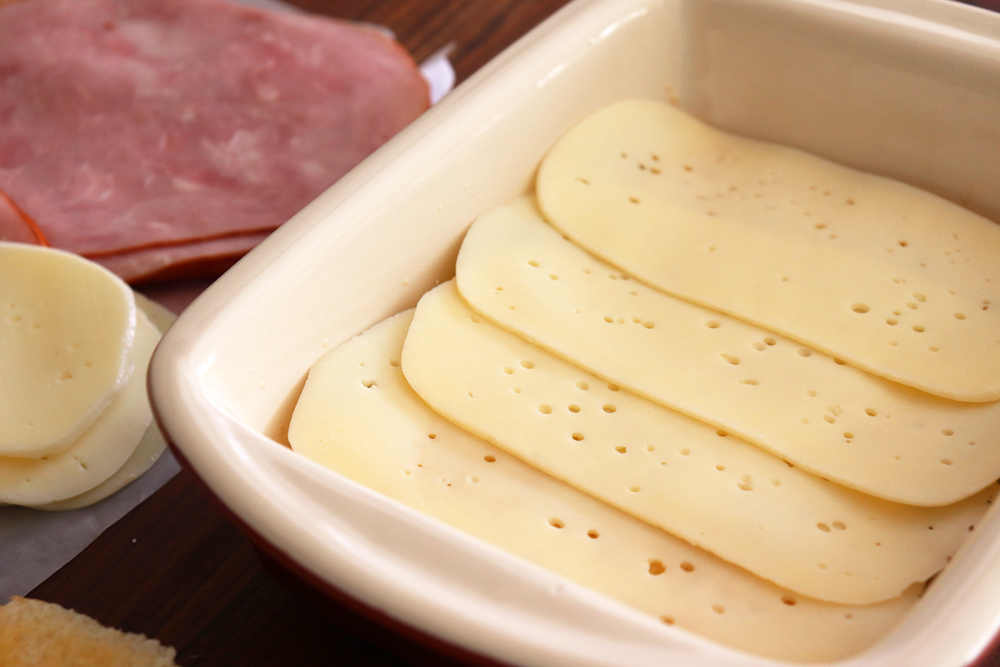 The underside of that top layer of rolls also get the butter mixture treatment. Be sure to reserve the final third.
Because that final third of the butter mixture gets brushed on the top of the rolls.
Before that butter mixture soaks in, be sure to add your topping. I just did a simple mixture of parmesan and parsley. Poppy seeds are optional.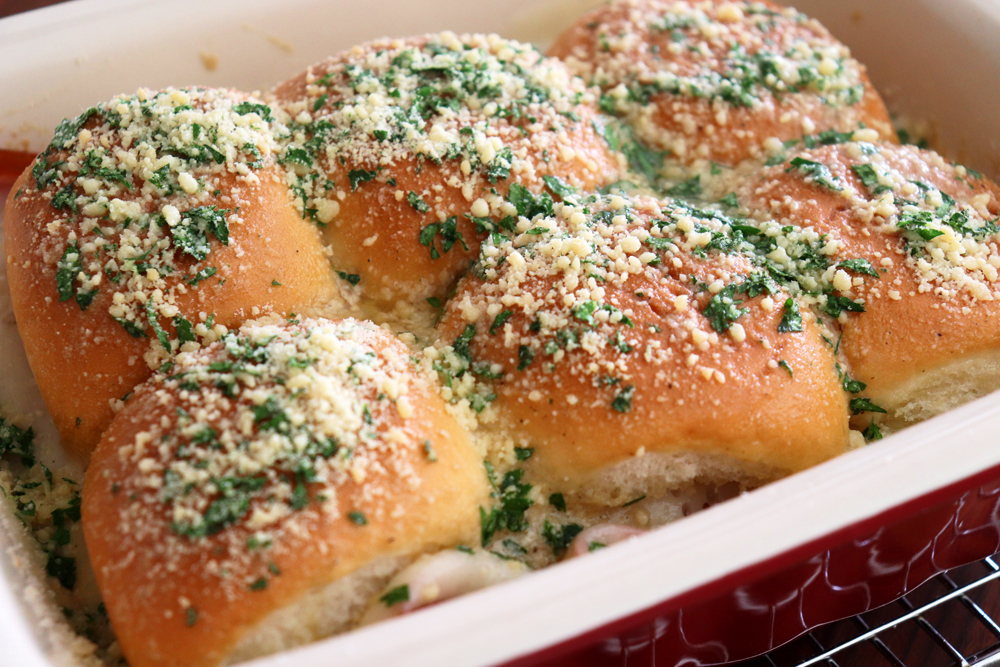 Now it's time to bake just until that cheese melts and the sandwich is warmed through. The bottom will get a bit crisp which I just love.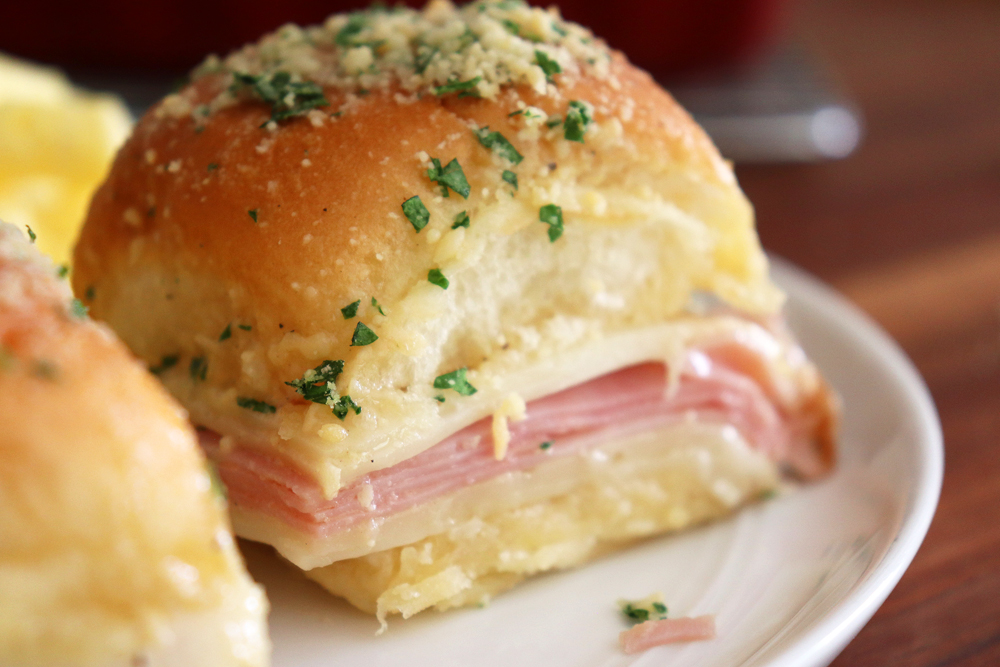 These Easy Baked Ham and Swiss Sliders were absolutely amazing and I will definitely be making these again and again. I hope you try them and if you did, I'd love to hear your thoughts!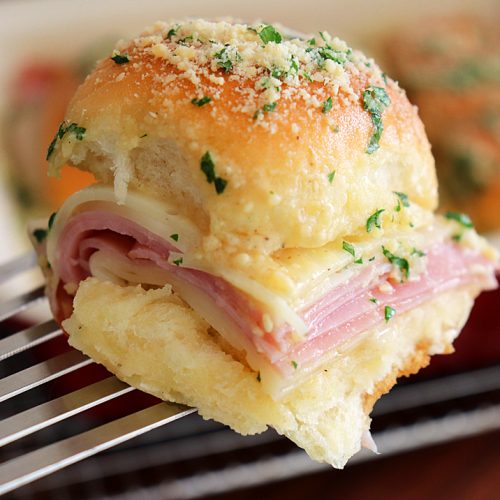 Easy Baked Ham and Swiss Sliders
Easy Baked Ham and Swiss Sliders
Ingredients
6

count

Hawaiian Sweet Rolls

4

slices

Deli Ham of your choosing

8

slices

Deli Swiss Cheese Slices
FOR THE BUTTER MIXTURE:
4

tbsp

Butter

melted

1 1/2

tsp

Dijon Mustard

1/4

tsp

Worcestershire Sauce

Salt & Pepper

to taste

Onion and/or Garlic Powder

OPTIONAL
FOR THE TOPPING:
Parmesan Cheese

grated

Parsley

chopped

Poppy Seeds

OPTIONAL
Instructions
TO PREPARE:
Preheat oven to 350 degrees.

Lightly butter (or line) a pan.

Melt butter and whisk in remaining ingredients.
TO ASSEMBLE THE SLIDERS:
Slice the entire slab of rolls horizontally as shown so that the rolls remain attached to one another.

Place bottom half in the pan and butter using one third of the melted butter mixture.

Now add 4 slices of the Swiss cheese, followed by a the ham and finally, another layer of cheese.

Before placing the top on the layers of cheese and ham, be sure to butter it as well.

The remaining butter gets brushed on the top of the rolls followed by a mixture of parmesan and parsley.

Bake for about 25 minutes or until the cheese has melted and the sandwich is hot throughout. Serve warm!
Notes
THIS RECIPE USES HALF of a 12 count package, but feel free to double the recipe and make this in a 9×13 pan.