---
Who Is Rachael Ray?
If you have someone in your household who has a passion for cooking, the chances are they have at one time or another mentioned Rachael Ray's recipes, cookware or lifestyle program. Rachael Ray is an American born celebrity chef (born during August 1968) who shares her passion for food on her television program, through her many cook books, her magazine that launched in 2006 and her website.
Rachael is best known for her 'quick and easy' cooking styles and it was no surprise that her '30 Minute Meal' demonstrations were such a hit. Rachael has her own line of cookware, furniture, decor and pet food. While all her ranges are popular in the United States, Rachael Ray's cookware is well-known and loved by all those who are cooking enthusiasts. In this article we will touch on a number of Rachael's cookware ranges and why many choose to continue to support her line of cooking items.
What is Rachael Ray Cookware?
"I am absolutely, 100 percent involved in the design and functionality of anything that I put my name on. There are no products that go out into the marketplace that I haven't either conceived or been instrumental in developing, testing, and approving."
Rachael Ray Cookware, is designed by Rachael herself. While there are thousands of items available from her own website, and distributors such as Amazon, her affordable cookware sets are among her best sellers. In this article we will be focusing on Rachael's cookware line which includes pots, pans and dishes. Cookware primarily focuses on items in which food will be cooked in. The majority of Rachael's cookware sets contain saucepans, skillets and stock pots with the occasional set having one or two bake-ware items. While the Rachael Ray cookware sets are popular due to the value for money, singular items are also sold from both her website and third party distributors.
Reputable Retailers of Rachael Ray Cookware
If you're hoping to purchase some Rachael Ray cookware to spruce up your cooking, you will want to know that the site you are purchasing from is a reputable retailer. Like any branded items, there will always be a number of sites selling copies.
While there are a number of online retailers who stock Rachael Ray, the largest global distributor is Amazon. Rest assured, if you purchase from one of the sites below, the cookware you receive will be the 'Rachael Ray' branded items:
What Warranty Comes with Rachael Ray Cookware?
Cookware that comes with warranty often gives consumers peace of mind when making the purchase. All of Rachael Ray branded items come with a lifetime warranty for basic household use. If you find that an item you purchase comes defective, you can simply use Rachael's contact page to report an issue. While Rachael Ray items do come with a lifetime warranty, this of course does not include the replacement of items that have been mistreated, misused or damaged from over heating or using the dishwasher.
What Cookware Does Rachael Ray Cook With?
"Of course I use my cookware at home before and after it hits stores. If you tune into my daytime show, most everything you see me cooking with is part of my brand."
We all know that Rachael hosts her own cooking show but the question is does she use her own brand of cookware?
An interview conducted with Rachael found that the majority of times she will use her own cookware but what she uses will depend on what she is cooking. Rachael's go to item for cooking meat/protein is a cast iron skillet. For her soup and stews she chooses to use a cast iron dutch oven.
---
5 Rachael Ray Pots and Pans that Belong in Every Household
If you have recently purchased a new home and you're looking for some pots and pans to complete your kitchen, go no further. We've collected 5 'must-have' Rachael Ray pots and pans below that suit every household.
---
The Covered Stir-Fry Pan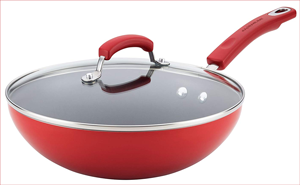 The Rachael Ray stir-fry pan is non-stick making flipping contents while cooking a breeze. The enamel exterior of the covered stir fry pan is vibrant and adds color to any kitchen. While these pans are designed to be used on the stove-top, they can also withstand oven temperatures of up to 350 degree Fahrenheit which allows you to pop a dish in the oven if you're waiting on some family members to arrive home. If you happen to drop the glass lid, don't fear, they have shatter proof qualities to ensure that they are long lasting. If you do happen to find the pan deteriorating, they also come with a lifetime warranty.
The Rachael Ray stir-fry pan will become your go to when cooking new recipes for the family. Many who have purchased this fry-pan talk about the size being ideal for a meal to feed a family of four while the pan being light enough to hold.
---
The Non-Stick Skillet Set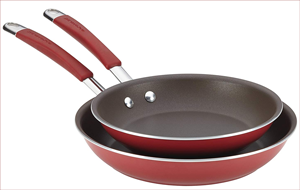 Two is always better than one, and in the case of a skillet fry pan, this is definitely true. The Rachael Ray skillet set comes with a 9.5 inch pan and an 11 inch pan is very cost effective generally retailing for around the $30.00 mark. Like all other Rachael Ray cookware, these pans have a lifetime warranty, non-stick surface, can withstand oven temperatures of up to 400 degrees Fahrenheit and heat evenly.
Customers who have previously purchased these pans love the fun and vibrant color selection, the fact they wear well if cleaned properly and the sizing that comes within the pack.
---
The Covered Casserole Pot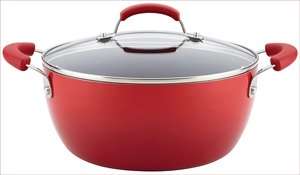 If you love cooking a hot casserole, the covered Rachael Ray casserole pot will be perfect for you. This hard enamel aluminum two tone pot comes with a lifetime warranty and a shatterproof lid. If you find you need to keep your casserole heated once it has been cooked, simply pop the pot into the oven up to temperatures of 350 degree Fahrenheit. The double riveted grip handles make lifting this pot from the stove top to the oven easier and the beautiful color selection is sure to brighten up any kitchen.
Those who have purchased this casserole pot brag about the size (5.5 quart) being perfect for cooking up a big batch of casserole and the non stick interior ensuring that food just washes away.
---
The Stock Pot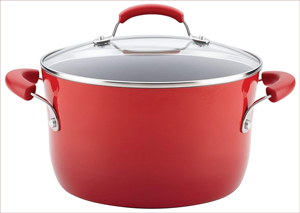 This durable aluminum Rachael Ray stockpot is durable yet heats up quickly and evenly. Perfect for a hearty soup, this pot can be used on most stove top types. If you need to place the contents in the oven, this pot can withstand temperatures up to 350 degree Fahrenheit. The grip handles on either side make transporting the pot and contents a breeze. The non stick sides make cleaning it up easier and the shatterproof glass lid allows the chef to see the progress of the food within. With a lifetime warranty, you can't go wrong with this essential kitchen item.
Those who have purchased this pot loves that the handles do not retain heat meaning that an oven mit is not required and the size of the pot (6 quart) is large enough to make a hearty dish in bulk.
---
The Square Grill Pan
If you love a good steak, the square grill pan by Rachael Ray will be ideal for you. The pan is made out of aluminum making it easy to lift and also allows it to heat evenly. The silicone over stainless steel handle is easy to grip and does not retain heat. If you need to pop your contents into the oven, this pan can withstand temperatures up to 400 degrees Fahrenheit. This pan is non-stick meaning contents easily wash away, comes with a lifetime warranty, and has sides tall enough to ensure no contents splash out.
This pan is ideal for those who love leaving grill marks in the meat they cook. Even if you aren't a big cook, this pan will surely come in use, from cooking bacon to a juicy steaks, this pan is very versatile.
---
What Should I Look for When Purchasing Cookware?
Cookware ranges in price and also quality. The quality of the cookware you purchase will ultimately determine how long you will be able to cook with it. When purchasing cookware, either Rachael Ray cookware, or cookware from another retailer always consider:
Does the Quality Represent the Cost

When purchasing pots and pans for your kitchen always think quality not quantity. There is no point having 10 useless pans sitting under the sink.
Shopping around for cookware can leave you with some additional money for other cooking utensils that you may need. When considering purchasing cookware always have a look at what deals Amazon is offering.

Whether or not the Handle is Heatproof

If you intend on placing the pot in the oven or a warmer ensure the handles are oven proof.
The handle should be molded so that lifting and lowering is easy.

If the Pot/Pan Comes with a Secure Lid

If you are viewing the cookware in person ensure the lids are tight fitting.
Glass lids are great to see the process of the meal within the pot/pan but they are often not oven proof.

The Material the Cookware is Made Out of

The material of the cookware should reflect it's intended use.

Aesthetics of Cookware

While the look of the cookware will not affect how well it cooks a meal, if you wish to display your pots and pans in your kitchen, you may like to purchase a color that coordinates with other decor/colors within the area.

Does the Cookware Come with a Guarantee/Warranty?

If the pots/pans you are looking at purchasing come with a one year or lifetime warranty, paying a little extra seems to be warranted.
Types of Cookware for Different Chefs
The type of cookware that you purchase should represent the meals that you intend on serving up. The size of the cookware should reflect how many people you will be cooking for and if the cookware will be used at home or in a restaurant. Rachael Ray's cookware is intended to be used for household purposes only.
Non Stick Cookware: Non stick cookware is great for those who will not be using metal utensils while cooking. The non stick qualities of these pots/pans allow for reduced fat cooking although often non-stick cookware will wear quickly if a poor quality set has been purchased.
---
Aluminum Cookware:
Pros:
Aluminum cookware is among the most affordable and heats up quickly as well as retains heat throughout the cooking process.
Cons:
Aluminum cookware can react with highly acidic or alkaline foods, can warp over time with high temperature and easily scratches.
---
Cast Iron Cookware: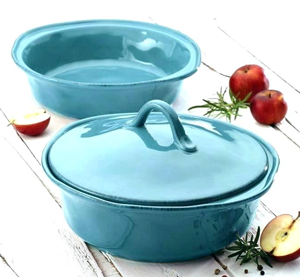 Pros:
Cast Iron Cookware is durable, non stick if seasoned correctly, distributes heat evenly and is often value for money.
Cons:
Cast Iron Cookware can react with highly acidic foods. On a stove-top, cast iron pots and pans will take longer to heat up and can be heavy.
---
Stainless Steel Cookware: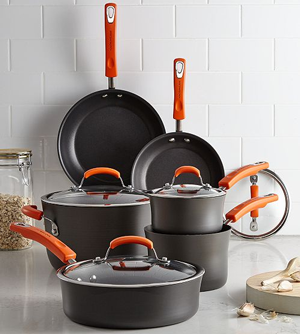 Pros:
Many choose to use Stainless Steel Cookware on a daily basis as it in non-reactive, dishwasher safe and is often reasonably priced.
Cons:
Depending on the quality of the stainless steel, some pots/pans have poor heat conductivity.
---
When speaking about Rachael Ray's cookware, her range is extensive and each pot and pan is designed and crafted from a range of materials to suit the intend use. Many of her cookware sets are crafted from coated aluminum. Other pots and pans designed by Rachael are made from Stainless Steel or Cast Iron. The range of materials used in Rachael's collections is why many people love her brand.
Should I Purchase a Cookware Set or Singular Items?
If you are looking at purchasing new Rachael Ray cookware items for your kitchen, if you find that your cupboards are bare or you enjoy cooking daily, you may consider purchasing a cookware set opposed to individual pots and pans. If you are someone who is a terrible decision maker, purchasing a 10 or 12 piece set is hassle free. You can guarantee that all pieces will match and add to the aesthetics of your kitchen. Cookware sets are generally also discounted due to the customer 'buying in bulk'.
Prior to purchasing a cookware set consider if you will use all the pots and pans that are included. If you are a cooking enthusiasts and cook a variety of dishes daily, than a cookware set may be a cost effective purchase. If you are someone who only cooks dinner and sticks to basics for breakfast and lunch, consider if you will ever use the contents of the cookware set. If you only need one of two items from the cookware set, purchasing them separately with saves you a couple of penny's.
---
5 Affordable Non-Stick Rachael Ray Cookware Sets
When purchasing a cookware set, whether it be one of Rachael Rays popular sets below, or another branded set always consider;
What is Included in the Set

Will you need all the different sized pots and pans

How Many Pots and Pans Will I Actually Receive

When talking about cookware sets, many 5 pot/pan sets are advertised as including 10 pieces (pots/pans and lids)

What Items are Not Included

Is there a must-have item that is missing from the cookware set that you will use regularly in your kitchen?

What Material is the Set Made from?

Consider if you require non-stick pots/pans in your kitchen.
---
1) Rachael Ray Aluminum 14 Piece Cookware Set
The Rachael Ray aluminum 14 piece cookware set is the perfect kitchen starter pack for either yourself or as a gift to a family member or friend. Picture above is the set in marine blue although this exact Rachael Ray set can be purchased in: blue gradient, fennel gradient, green gradient, orange gradient, purple gradient, red gradient and sea salt grey.
What is Included in the 14 Piece Aluminum Cookware Set?
4 Shatter Resistant Glass Lids
1 Stock Pot (6 quart)
2 Skillets
1 Saute (3 quart)
2 Saucepans (1 and 2 quart in size)
1 Non-Stick Cookie Tray
3 Additional Cooking Utensils: Spatula, Spoonula and Turner
Features of the 14 Piece Cookware Set
This cookware set comes with 14 pieces including 2 fry pans and 3 saucepans. All items have non-stick qualities and feature silicone cookware handles for easy grip. All items in the set are oven safe up to 350 degree Fahrenheit. Crafted from sturdy aluminum and then coated with porcelain enamel, this Rachael Ray cookware set is perfect for first home owners to start their kitchen collection.
Unfortunately this set is not dishwasher safe nor are the handles heatproof.
Reviews of the 14 Piece Cookware Set
"These pots and pans are amazing! They cook food evenly and cleaning up is a breeze. I am so glad I spent the extra money and bought this set."
"These pots and pans are great. We absolutely love them."
---
2) Rachael Ray Cucina Enamel Non-Stick 12 Piece Cookware Set
Pictured above is Rachael Ray's 12 piece non-stick enamel cookware set. While the agave blue is among the most popular color, this set can also be purchased in: cranberry red, earthy brown, lavender purple, pumpkin orange and sea salt grey.
What is Included in the 12 Piece Enamel Cookware Set?
2 Saucepans with Lids (1 and 3 quart)
1 Stock Pot with Lid (6 quart)
2 Skillets
1 Saute Pan with Lid (3 quart)
1 Nylon Slotted Turner
Slotted Spoon
Features of the 12 Piece Enamel Cookware Set
Crafted with aluminum and coated with hard enamel porcelain finishes, these pots and pans within the 12 piece Rachael Ray cookware set are not only modern but also sturdy. Each item in the cookware set is non-stick, oven safe to 400 degrees Fahrenheit and compatible with all stove tops other than induction. The lids are shatterproof while still being clear so that the cooking process can be viewed from above.
Reviews of the 12 Piece Cookware Set
"We have been shopping around for cookware and I knew this Rachel Ray set would not disappoint. The pots and pans are durable although they aren't too heavy. I also enjoy the unique color of this set."
"My favorite pots and pans in my kitchen. I love the color and their non-stick qualities. These pans heat up quickly as well."
3) Rachael Ray Cucina Aluminum Non-Stick 12 Piece Cookware Set
This set includes 12 pieces that are great starter kitchen items. Rachael Ray cookware is known for it's durability and this set is no exception. This set is hard-anodized stainless steel with silicone handles. While the picture above displays the cranberry red option, this set is also available in blue or orange handles.
What is Included in the 12 Piece Aluminum Cookware Set?
2 Saucepans with Lids (1 and 3 quart)
1 Stock Pot with Lid (6 quart)
2 Skillets
1 Saute Pan with Lid (3 quart)
1 Nylon Slotted Turner
Slotted Spoon
Features of the 12 Piece Aluminum Enamel Cookware Set
This fast and evenly heating cookware set is a must for every household. The beauty of this set unlike the sets above can be thrown in the dishwasher after use. While it is not vibrant colors, the ease of cleaning goes a long way. The cookware items are safe in an oven up to 400 degree Fahrenheit and like all Rachael Ray glass lids, they are shatter proof. The grips on the lids and sides of pots/pans are dual-riveted for added strength.
Reviews of the 12 Piece Cookware Set
"I have had these for almost 6 months and they look the same as they did when I took them out of the box. Truly non-stick and dishwasher safe!"

"These pots and pans clean so nicely! I've had them for about 8 months now and the non stick surfaces still works very well, even with us washing these a couple of times each week in the dishwasher.
4) Rachael Ray 10 Piece Cookware Set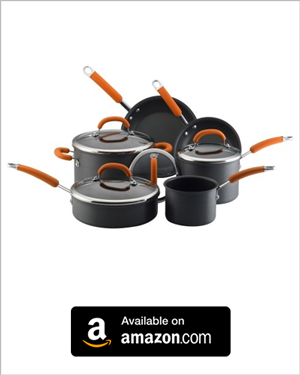 The Rachael Ray 10 piece cookware set comes in either orange and grey or blue and grey. The pots and pans all have non-stick finishes making them easy to clean after cooking.
What is Included in the 10 Piece Cookware Set?
2 Saucepans with Lids (1 quart and 2 quart)
1 Stockpot (6 quart)
2 Skillets (8.5 inches and 10 inches)
1 Saute Pan with Lid (3 quart)
Features of the 10 Piece Cookware Set
The 10 piece Rachael Ray set is crafted from hard-anodized aluminum with soft grip silicone handles. This set is dishwasher safe and can withstand oven temperatures up to 350 degrees Fahrenheit. This set comes with the Rachael Ray lifetime warranty just like many of her cookware products do.
Reviews of the 10 Piece Set
"I have had and used this cookware for about a month and I love it. There is no need to add extra oils as nothing sticks to them when you follow the cooking recommendations and use low to medium heat."
"I love how you don't have to use a hot pad on the handles! They are not as heavy as I thought they would be and they cook very evenly meaning they are easy to work with."
5) Rachael Ray Stainless Steel 10 Piece Set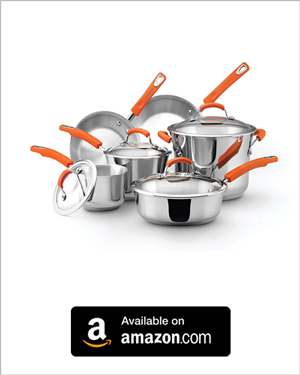 The stainless steel 10 piece set is among Rachael Ray's best sellers. The stainless steel construction of each pot and pan and their matching orange handles make them stand out pieces in any kitchen space.
What is Included in the 10 Piece Stainless Steel Cookware Set?
2 Saucepans with Lids (1.25 quart and 2.5 quart)
Stockpot with Lid (6.5 quart)
Saute with Lid (3 quart)
2 Skillets (8,5 inches and 10 inches)
Features of the 10 Piece Stainless Steel Cookware Set
The pots and pans within the cookware set are made from stainless steel making them not only durable but also dishwasher safe. The base is constructed from thick aluminum making heating quick and even. The grip handles on each item are riveted and comfortable to hold. Due to the material these pots and pans are constructed from, they can handle oven temperatures up to 350 degree Fahrenheit.
Reviews of the 10 Piece Stainless Steel Cookware Set
"This cookware set is a great buy for those who are seeking pots and pans without breaking the budget. I have prepared many meals since purchasing this set, and it has served me well." 
"These pots and pants are nice quality, and the price was very reasonable. They are heavy duty and the grip handles are another added bonus."
---