When it comes to cooking, the biggest downfall can be the pan you choose.
Using too much of an ingredient can often be fixed, as well as using too little, but your food burning or under cooking due to poor quality cookware is another story. If you are able to somewhat save your contents, a poor quality pan will always be troublesome to clean. Investing in quality over quantity cookware can bring your dishes up to scratch and save you the labor intensive cleaning after dinner times.
If you happened to have seen the infomercial where celebrity Cathy Mitchell endorses the Red Copper Pans you may have been wondering if the claims about these pans really add up. If you are seeking out a good copper pan to use in your home kitchen, continue to follow on as we will delve into the Red Copper Pan claims to determine whether or not these pans belong in all households.
---
Cook Novel's Red Copper Picks
What Are Red Copper Pans?
Red copper pans are made from copper and ceramic, a combination that grants them great qualities. Copper on one hand is a highly conductible material that means it can absorb heat easily. This means contents will cook quickly and evenly. While copper has many benefits when used in cookware, it can react with certain acidic foods such as tomatoes. Ceramic on the other hand is durable, has non-stick qualities and is naturally free from many chemicals such as Teflon. When you combine both these materials the result is a Red Copper Pan that is non-stick, conducts heat quickly and evenly, is non reactive on the surface and durable.
Furthermore, Red Copper Pans are dishwasher safe, making them one of the most versatile and easy to use pans out there, something that can't be said of other combinations.
Are Red Copper Pans Safe?
If you are wondering about the safety of Red Copper Pans, you can rest assured that these pans are free from nastys.
People often believe that cooking on copper isn't safe because this material tends to react with certain foods. While this reaction isn't unhealthy, it can be quite unpalatable which is why this material is only favored by people who know how to use it. However, Red Copper Pans are lined with ceramic, which means that you won't have to worry about any kind of re-activeness whatsoever. The use of a ceramic glaze also means that the cooking surface is Teflon free.
Do Red Copper Pans Really Work?
If you are looking for a durable and non-stick pan, a Red Copper Pan is among the best cookware investments you can make. If you treat you Red Copper pan like an investment, and follow the usage instructions it will last for years to come, complete with it's non-stick finish.
While these pans can run on the expensive side when comparing them to other branded non-stick pans, it is important to weigh up quality over quantity.
What Are The Key Advantages and Benefits Of Red Copper Pans?
As it stands, Red Copper Pans give you the following advantages:
They heat up quickly and evenly
They offer great non-stick qualities without the use of harmful chemicals on the surface
​They cool down quickly once not in use
​They're dishwasher safe
​They're very easy to clean, even without a dishwasher
​They're non-reactive
​They're lightweight enough to move around with ease but heavy enough not to be accidentally knocked down
​They look amazing in your kitchen with a color selection to choose from
They are scratch proof
Red Copper Pans are reliable and easy to use, but the myths surrounding both ceramic and copper tend to scare people off. Now having been sold on the market for a number of year, people are warming up to the idea of the combination of materials and are giving these pans a test run first hand. The majority of Red Copper Pan reviews match their product description.
Red Copper Pan vs. Gotham Steel Pan vs. Copper Chef Pan. Which is the Better Brand of Cookware?
While Red Copper Pans, Gotham Steel Pans and Copper Chef Pans share similar qualities, the materials used in the production of each differ. While at Cook Novel, we have a variety of each branded pan in our own kitchen, we will leave the final judgement up to our readers. If you have purchased a pan or two from one of the three brands spoken about below, we'd love to hear which pan you chose and why.
| | | | |
| --- | --- | --- | --- |
| Brand of Cookware | Red Copper Pans | Gotham Steel Pans | Copper Chef Pans |
| Endorsed By | Cathy Mitchell | Daniel Green | Eric Theiss |
| Material | Ceramic combined with copper infusion | Ceramic, titanium, and stainless steel | Ceramic, stainless steel and tempered glass |
| Free from | PFOA & PTFE | PTFE/PFOA/PFOS | PFOA & PTFE |
| Dishwasher Safe | Yes | Yes | Yes |
| Oven Safe | Yes | Yes | Yes |
| Heat Resistance | Up to 500°F | Up to 500°F | Up to 850°F |
These three types of pans are often pitted against each other in the search for the best nonstick pans out there, which is no surprise, as they all have something to offer.
Copper Chef Pans
Copper Chef uses copper and ceramic as well, though it has a thicker construction, which makes them heavier.
The goal in using thicker copper is to increase the pan's durability, which is a must in professional kitchen scenarios, but might be an overkill for the average household.
Both the Red Copper Pans and Copper Chef Pans use a ceramic coating on the cooking surface and both are of similar price.
Gotham Steel Pans
These pans are made out of ceramic and titanium, the later of which is a material commonly favored for its sturdiness and weightiness.
While reliable, titanium isn't as good as conducting heat as copper, which means it doesn't heat up as fast as a Red Copper Pan does.
Both Gotham Steel Pans and Red Copper Pans use ceramic on the cooking surface, so in that aspect they're quite similar.
Read more about Gotham Steel Pans here.
Red Copper Pan Review
---
1.​ Red Copper Ceramic Non-Stick 10 Piece Cookware Set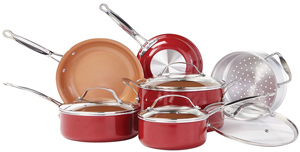 Another Bulbhead original, this cookware set is the answer for those of you looking to change their entire cookware for red copper pieces. This sizable set includes two frying pans, three saucepans, and a steaming insert, as well as their lids.
Contrary to the more popular square pan, the pieces of this set are relatively lightweight and easy to carry, perfect for any kitchen and stove-top.
The ceramic coating of these pans makes them perfect to cook without any oils, which is perfect for those of you looking to cut them out of your diet. Not only that, but the ceramic coating is free from Teflon or any other chemical, making them easy to clean without risking the health of your family.
Another great quality of the pieces of this cookware is that they're oven safe, which means you can use them to roast and bake without any worries. That, coupled with the fact that this set comes with 5 different pans, makes it one of the most versatile Red Copper Sets out there.
Since the base material of this set is aluminum, you can rest assured that this cookware set works well on any kind of stove top, including glass top stoves, where the light weight of these pieces is even more beneficial.
While the pieces of this set are all non-stick, they need to be properly seasoned before using them. Failing to do so might result in certain foods, such as eggs, sticking to the cooking surface.
Pros:
Versatile
Oven safe
Sturdy
Very easy to clean
Cons:
Needs to be seasoned to work properly
Handles get very hot
---
2.​ Red Copper Non-Stick Square Ceramic 5-Piece Cookware Set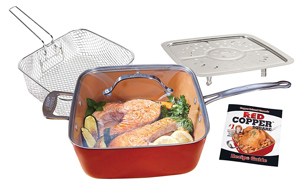 By far one of the most popular red copper cookware sets out there, Bulbhead gives you the ability to cook a variety of meals using a single pan, minimizing not only your cooking time but also the number of things you have to clean.
While we call this a cookware set, it only comes with a single square shaped, deep pan and different accessories, such as a steaming and roasting tray, a frying basket, a vented glass lid and a cooking guide that will teach you exactly how to use this set.
The pan itself is quite large, measuring almost 20 x 10 inches, and it weights almost 5 lbs, making it rather unwieldy, even for the experienced cook.
If your oven is large enough to fit this pan, then you're in luck because the pan is oven safe, which makes it even more versatile as you can use it to bake and roast, as well as its more common uses, which include steaming, frying, deep frying and boiling.
The ceramic non-stick surface is easy to clean, as almost nothing manages to stick to it, particularly once you've seasoned the pan properly. The pan's handle is quite sturdy and has been assembled directly into the pan, which is a great thing considering just how heavy it is.
This attribute can be a downside, however, as the handle does tend to get pretty hot.
To ensure you're getting an original Bulbhead Red Copper pan, look at the underside of your product. There should be a Bulbhead logo, as well as a "Red Copper" sign located at the bottom of the pan. 
Pros:
Excellent non-stick properties
Scratch resistant
Versatile and capable of cooking a variety of meals
Very easy to clean
Cons:
Very heavy
Can be too large for some kitchens
Replicas often sold
---
3.​ Red Copper Square Dance Non-Stick Ceramic Cookware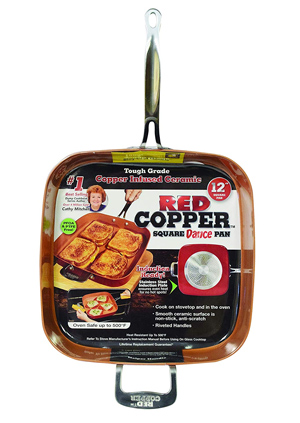 Another square pan by Bulbhead, this sizable pan is perfect for those of you who enjoy cooking large meals.
Not only does it have a rather large cooking surface, large enough to cook up to four regular burger patties at the same time, but it's also completely non-stick, making it perfect to cook meals with little to no oil or butter.
Because ceramic and copper were used to create this pan, you should know they get very hot very fast, so you should be careful when using this pan, as the food may burn if you're not careful, and burnt food can stick to the surface.
Even though this pan has a non-stick ceramic surface, you should still season it before using it, as this will maximize its nonstick properties and make cleaning a breeze.
Another great advantage of ceramic is that you'll be able to cook without any harmful chemicals, which makes it perfect for those of you watching over your family's health, as well as those who are environmentally conscious.
One downside, however, is that ceramic is rather easy to scratch so you should always hand wash and avoid any abrasive spongers or wire brushes when washing.
While the large cooking surface makes it perfect for cooking large amounts of food, it does make it rather hard to use in small kitchens or to store.
It also makes this pan much heavier than average pans, as it weights almost 2 pounds without any food in it. Despite that, you'll find this pan is easy to use once you get used to the weight, this is a fantastic pan that will exceed all your expectations.
Pros:
Nonstick
Very easy to clean
Scratch resistant
Cons:
Very large and heavy
Not dishwasher safe
Doesn't have a lid
---
4.​ Red Copper Ceramic Non-Stick 10 Inch Cookware Pan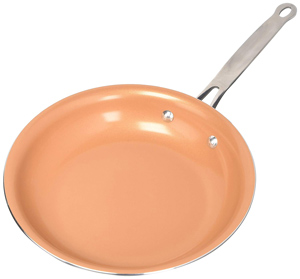 This beautiful and simple red copper pan is perfect for those of you looking to experience the advantages of red copper without investing in a complete cookware set.
The high quality ceramic coating used to create this pan makes it perfect to cook with as little oil as possible, though you should still season the pan properly before using it. Likewise, you should be careful when cooking extra sticky foods, as these can stick when burnt.
Due to its powerful non-stick properties, cleaning this pan is a breeze, even if food does manage to stick to it. As with any other non-stick pan, however, we encourage you to use a soft sponge when doing so, as scrubbing or using the dishwasher might damage the ceramic surface.
Don't get us wrong, the ceramic coating is scratch resistant and can take quite a beating, but it pays to care for cookware such as this one by taking small precautions such as not using metal utensils or wire brushes when cleaning them.
Because ceramic was used to coat this pan, your food will be free of chemicals such as PFOA or PTFE, so they're perfect for those of you watching after the health of your families.
The pan itself is rather sizeable, perfect to cook for an entire family, but it is quite heavy, so we don't recommend it for induction cooktops, as you risk damaging the glass stove top. Not only that, but the base of the pan makes it a bad fit for induction cooking.
As you can see, there's a fair amount of care that needs to go to this beautiful pan, but if you follow instructions you should have no problem using this pan for the years to come.
Pros:
Great non-stick qualities
Scratch resistant
Very easy to clean
Cooks with no chemicals whatsoever
Cons:
Needs to be treated with care
Quite heavy and large
---
5.​ Red Copper Fry Pan Deluxe 12 Inch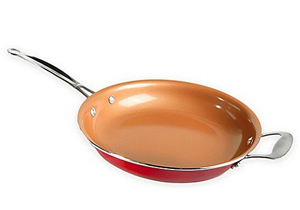 Made by the Red Copper Company, this beautiful and elegant copper frying pan is perfect for preparing a variety of meals, thanks not only to its non-stick properties but also to its large size.
Since ceramic was used to create this fry pan, you'll have to use very little or no oil when cooking, though we do encourage you to season this fry pan properly before using, and maybe adding a splash of oil for particularly sticky foods.
Not only that, but ceramic is completely free of harmful chemicals, which makes the material completely non-toxic as well as environment friendly.
While this saucepan comes with no lid, it does come with an extra handle which makes this large saucepan easier to handle, as well as capable of working as a small paella pan. Not only that, but it also makes it perfect for baking, as pulling out this pan from the oven is very easy.
That said, you should know that the handles get quite hot when cooking, so you should plan accordingly.
Since Red Copper was used to create this beautiful fry pan, rest assured that its heat conductivity knows no match and that this pan will not only get hot really fast but will answer quite quickly to any temperature change.
However, copper isn't particularly good for induction and glass cooktops, so you should keep that in mind.
As you can see, there's a fair amount of care that needs to go to this beautiful pan, but if you follow instructions you should have no problem using this pan for the years to come.
Pros:
Great for all types of food
High quality non-stick surface
Two handles
Very durable
Cons:
Not good for ceramic or glass stove tops
Not dishwasher safe
---
As you can see, Red Copper Pans offer a number of advantages over similar cookware and they make a fantastic investment that can be used in the kitchen over and over again.
While the price is high compared to other kinds of cookware, the amount of time you'll save when cleaning, as well as the amount of oil you'll save when using it, will more than make up for its price.
Furthermore, purchasing an aluminum disk to attach to the base of your red copper pans makes them induction compatible, which means that you'll be able to use your purchases no matter what.
How Do I Use a Red Copper Pan?
For the most part, Red Copper Pans can be used similarly to any other pan, but you should always season them first in order to maximize their non-stick qualities.
Seasoning will not only extend the life of your pans but will also increase their non-stick abilities, making adding oil almost completely unnecessary.
How Can I Season my Red Copper Pan?
If you have recently purchased a Red Copper Pan (or similar) you may be now wondering how you can season it to get the most out of your pan.
Wash your new pan/s thoroughly using warm water and mild dish soap. Use your hands or a soft sponge. Avoid scrubbing.
Dry your pan with a paper towel. Make sure it's completely dry before continuing.
Heat your pan on low fire for around 30 seconds before removing from the heat.
Add a tablespoon of oil, preferably cooking or vegetable oil, and use a paper towel to gently spread all the oil through the entire inside surface of your pan.
Allow the oil to dry.
Properly seasoned pans will be almost completely non-stick, but if any food particles manage to cling, simply wash your pan with mild soap and warm water. Remember, don't scrub or use any abrasive sponges. Abrasives will break down the non-stick surface and can lead to internal rusting of a pan.
---
Whether you choose to purchase a singular Red Copper Pan or a complete Red Copper Cookware Set, you will be sure to love the hassle free cooking approach these pans allow for. Remember to season as required and always follow the usage instructions to get the most out of your Red Copper Pan purchase.
If you are considering where or not copper pans will be a good fit for your kitchen, browse our copper cookware considerations here.