I have been making these Rotisserie Chicken Puff Appetizers for as long as I can remember. My parents would have company holiday parties and I got to help my mom make all of the food. These were always a hit and still one of my absolute favorites to this day so I thought I would share it with you.
Let's make the pastry
The first step is to make the dough, which is nothing more than a cheesy version of classic Pâte à Choux (or Choux) pastry. Sounds fancy, but these are incredibly easy to prepare and easy to make a lot of if you are entertaining.
Flour, salt, butter and boiling water are combined and cooked for about a minute or so. Allow to cool slightly before adding the egg so you don't end up scrambling it 🙂 It will seem like it may never come together…but I promise you, it will. Then add cheese and you get a beautiful ball of dough.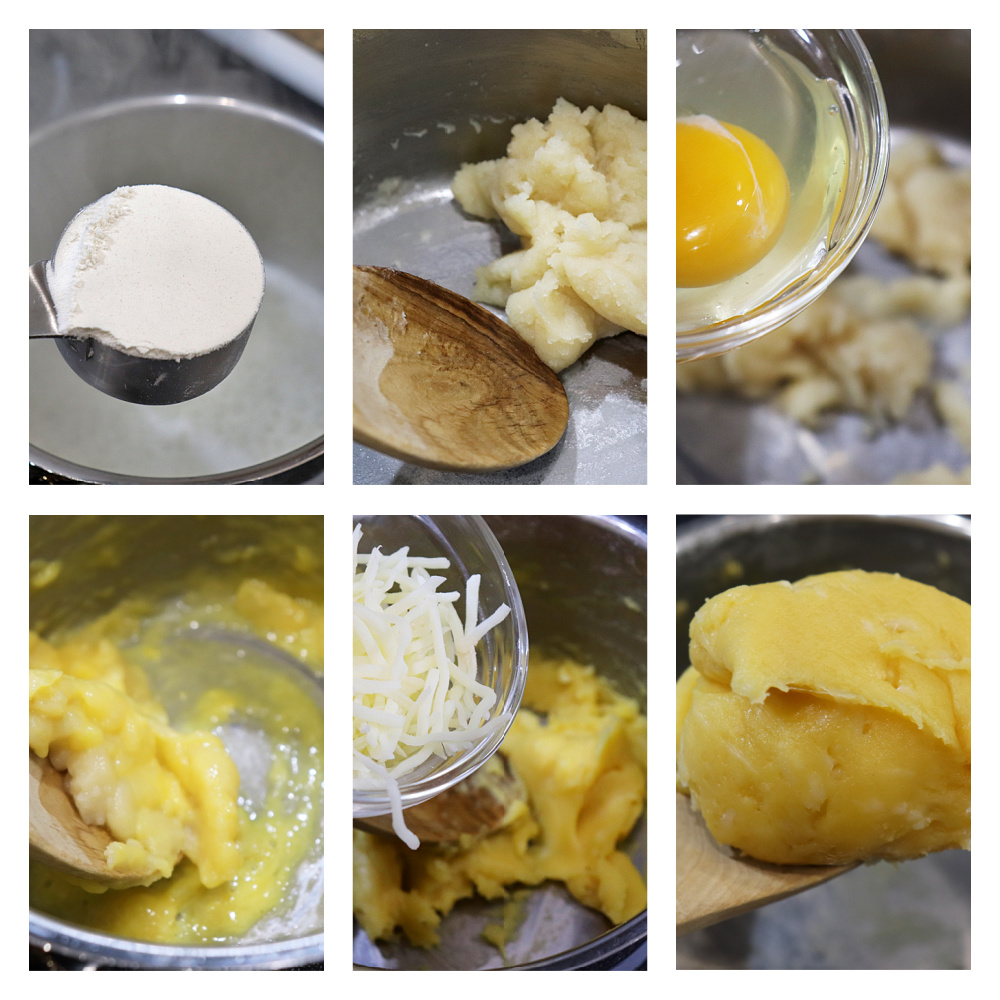 The dough will still be pretty sticky, but manageable. I use two spoons to place mounds of the dough onto a sheet pan lined with parchment paper. You can even roll these after you scoop for more perfect rounds as I've done for mine seen below.
Once baked, they look like this. Allow to cool completely on a rack and do no store covered or they will get soft. Rather, cover with waxed or parchment paper loosely as I have here. If you are not serving immediately, I would hold off on filling them until then.
How to make the rotisserie chicken salad filling
I'm using a store bough rotisserie chicken for a few reasons. First, it's incredibly flavorful and secondly, because it's a great shortcut! But these pieces are too big for our puffs, so let's proceed.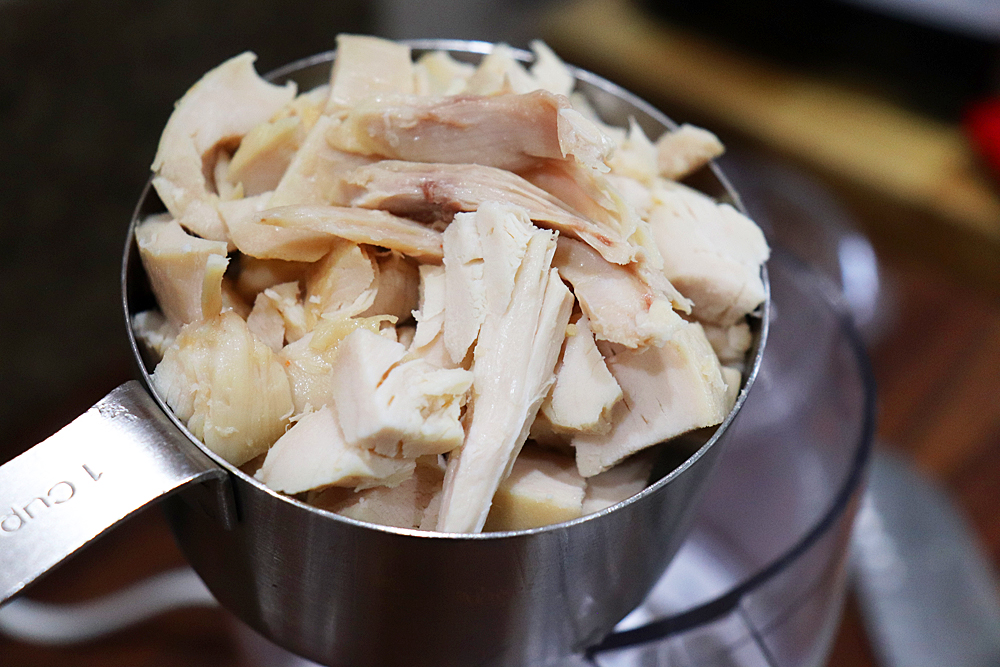 In a food processor, chop the chicken until it looks like this. You could also use a canned chicken or even canned tuna for this recipe.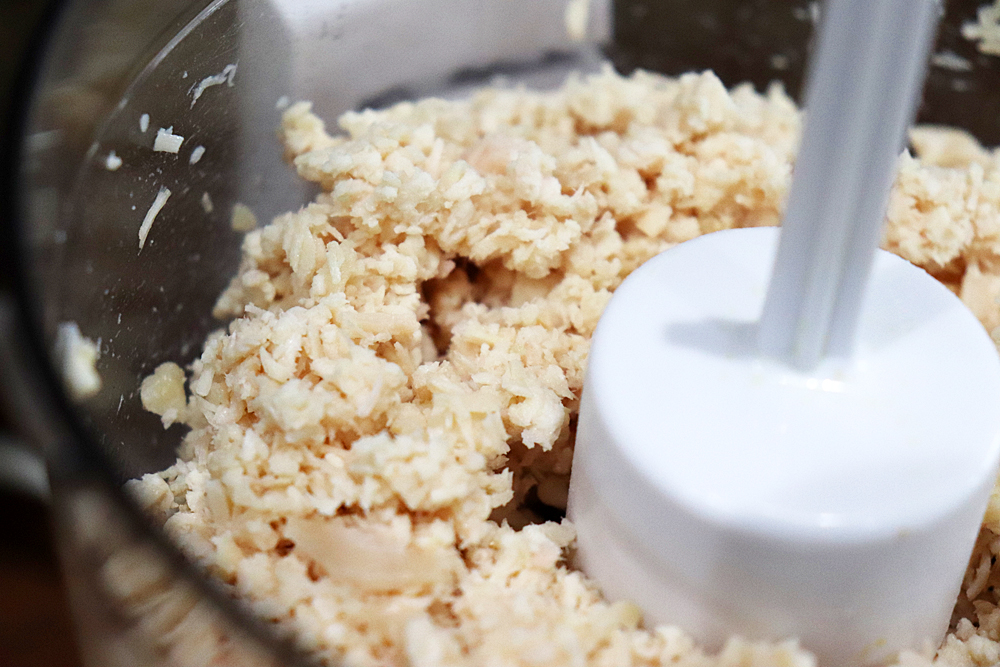 Add the chicken to a bowl along with the finely diced celery, grated onion (I chose grated because it's otherwise too strong), pimiento, mayonnaise, salt, pepper and white wine. Don't skip the wine! It really adds to the flavor of this filling. If you are concerned about the flavor, add the wine last so you can add it to taste. Make sure the filling is well seasoned.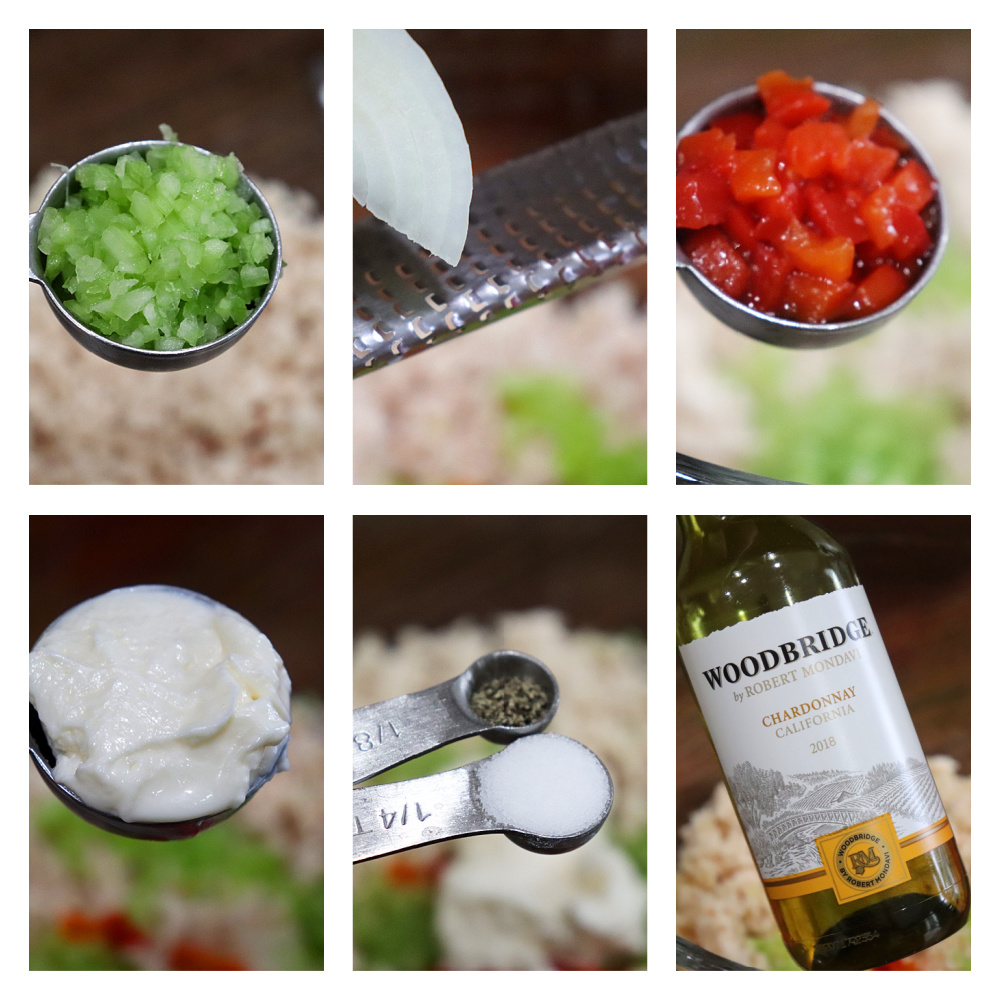 Assemble the puffs
Now that the puffs have cooled, use a sharp or better yet, serrated knife to slice them in half. Using a spoon, place a small amount in each one and put the top back on.
The puffs can be stored in the refrigerator and enjoyed for a few days, but they will be a bit softer than when first baked. I have never seemed to mind though 🙂
Did you make my recipe for Rotisserie Chicken Puff Appetizers? Leave me a comment below and let me know what you thought.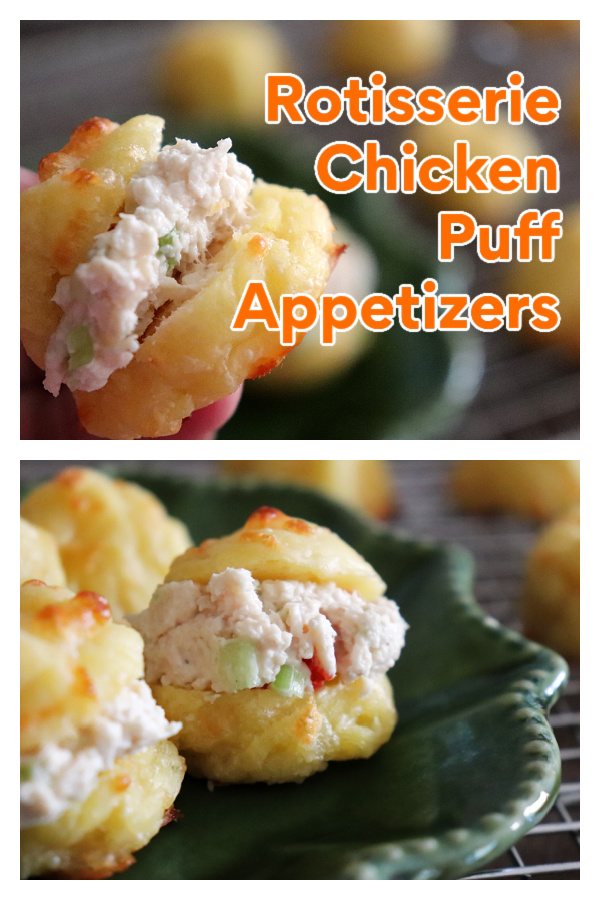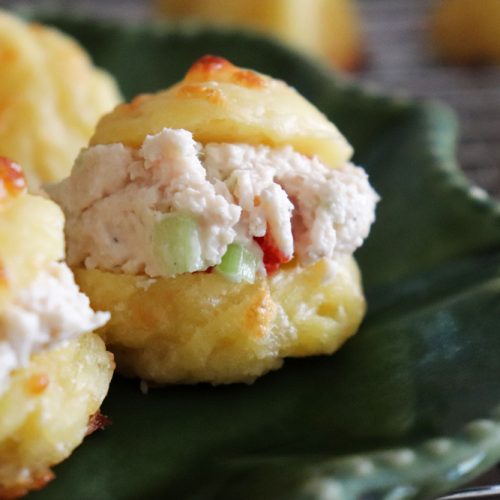 Rotisserie Chicken Puff Appetizers
Rotisserie Chicken Puff Appetizers
Ingredients
FOR THE PATE A CHOUX PASTRY
4

tbsp

Butter

1/2

c

Boiling Water

1/2

c

All Purpose Flour

1/2

c

Swiss Cheese

shredded

2

large

eggs

dash

Salt
FOR THE CHICKEN SALAD FILLING:
1

c

Rotisserie Chicken

finely chopped

2

tbsp

Celery

finely diced

1

tbsp

Pimiento

1

tbsp

Wine

less or more to taste

2

tbsp

Mayonnaise

1

tsp

Onion

grated

1/4

tsp

Salt

dash

Pepper
Instructions
Preheat oven to 400 degrees and line a baking sheet with parchment paper.

In a pan, bring water and butter to a boil. Add a salt and flour stirring constantly. Set aside to cool before proceeding.

Stir in one egg at a time until fully incorporated. I find a wooden spoon works well for this job. Keep stirring vigorously. This process takes a few minutes.

Finally add the shredded cheese.

Using two spoons, place small mounds of the mixture onto the parchment. You can quickly roll them in your hands afterwards to get a more round shape.

Bake for about 20 minutes or until golden. Cool completely on a rack.

Meanwhile, prepare the chicken salad filling.

Slice each puff in half and stuff with a small amount of the chicken filling. Place the top of the puff back on.
Notes
Store loosely covered if serving the same day. I would also hold off filling them until you are ready to use.
You can store the leftover puffs in the refrigerator for a few days, though they will become softer than when first baked.