What is Tamarind? Is Tamarind a Fruit?
When we hear the word tropical, the first thing that comes to our mind is "exotic." Tamarind is a tropical tree that bears edible fruit. The fruit from this tree is also known as Tamarind. Yotam Ottolenghi, a very well-known vegetarian chef, quoted this fruit as his "secret" flavoring ingredient. This statement will make you curious to know more about this mysterious fruit that comes from bean-like pods.
The outer cover of Tamarind fruit is delicate and easily separates. Just a single cup (about 120 grams) of pulp contains many nutrients that your body will benefit from. Tamarind contains Magnesium, Potassium, Iron, Calcium, Vitamin B1, B2, B3, and many other nutrients essential for good health. (Source)
Tamarind is also known as Imlee, Imli, Tamarin, Tamarindo, Tamarindus indica, Tamarinier, Tamarinier d'Inde, Tintiri, etc. Tamarind is a legume, which means it is a member of the pea family. The pulp of the young fruit is both green and sour. However, as it ripens, the juicy flesh turns sweet and sour. How do you de-mystify this eclectic fruit?
Origin of Tamarind
Known scientifically as Tamarindus Indica, tamarind is a hardwood tree native to tropical Africa and Madagascar. Tamarind also grows in India, Pakistan, and other tropical regions of the world. Although tamarind, is native to Africa, when it was introduced to India so long ago, it became closely identified with the country. Currently, India produces the most tamarind in the word. Some of the countries where tamarind is richly cultivated are:
Indonesia
Malaysia
Philippines
Sri Lanka
Thailand
Latin America
The tamarind tree grows well in soil rich in alluvium. This tree prefers a warm climate but is best suited in the semi-tropical region where there is low rainfall. Surprisingly, tamarind can survive even in saline, alkaline, soils rich in gravel sand, or prone to erosion.
What Does Tamarind Taste Like?
The taste of tamarind can be sweet and sour or only sour. In some regions of the world, those with reddish flesh is said to be better tasting than its brown flesh type. There is a specific kind of tamarind that comes from the Phetchabun region of Thailand which is much sweeter than the rest. Ripe tamarind has a very soft texture. The best description for tamarind's sweet-sour flavor is that it tastes similar to dates with a distinctive sour taste. Young tamarind flesh can be super sour like sour candies.
How to Eat Tamarind?
Tamarind can be eaten fresh and raw straight from the tree. First, you need to peel the brown shell because the edible reddish-brown pulp is inside the shell. Remove the twig-like vines around the flesh and enjoy the sweet-sour taste of tamarind. Do not eat or swallow the hard and glossy brown seeds underneath the pulp.
Tamarind paste often mixed with sugar and can be eaten as candies. Tamarind can be used to make jams or chutney. You can also use the frozen, unsweetened pulp or sweetened tamarind syrup for cooking. Instead of eating, you can also drink tamarind in beverage form.
What Are the Health Benefits of Tamarind?
Tamarind is popular and has a wide variety of uses. It is used in many recipes around the world, but at the same time, it offers medicinal benefits too. Tamarind has been used in traditional medicines for hundreds of years.
To boost your health, you can add tamarind to your daily diet. Here are seven health benefits of tamarind:
Tamarind Promotes Heart Health
Tamarind contains nutrients that are beneficial for the heart. It lowers blood cholesterol, particularly harmful LDL cholesterol (1). The potassium content in tamarind helps lower blood pressure. Animal studies have demonstrated that tamarind extract has a high potential to lower the risk of atherosclerosis in humans as well (2).
Tamarind Strengthens the Immune System
Tamarind's antioxidant properties boost the immune system, staving off microbial and fungal infections (3). It reduces the occurrence of parasites in the body due to its antiseptic and antimicrobial effects (4). Tamarind also boosts white blood cell production, fights free radicals, and can tackle infections.
Tamarind Improves Digestion
Tamarind stimulates bile and bile acid activity, which helps your body absorb fats and fat-soluble vitamins in the small intestine. It is also rich in fiber, which adds bulks to stools and helps smooth bowel movements. This is the reason why tamarind is a natural laxative (5) (6).
Tamarind Reduces Blood Sugar
For many years tamarind has been used in traditional medicine to control blood glucose levels. Recent studies have found that tamarind prevents the adverse effects of carbohydrates on blood sugar. When administered to rats with diabetes, tamarind brought down their blood sugar levels. This fruit could neutralize hyperglycemia even in rats that had severe diabetes (7) (8).
Tamarind Reduces Inflammation
Tamarind has powerful anti-inflammatory properties. The essential oil can reduce inflammation, including the reduction of joint pain, arthritis, rheumatic conditions, and gout (9).
Tamarind Helps with Weight Loss
Tamarind contains a compound called Hydroxy Citric Acid (HCA) that prevents an enzyme in your body from storing fat. This acid also suppresses appetite by increasing serotonin neurotransmitter levels. Research is still ongoing in these respective areas, but it shows promising signs as a weight-loss supplement (10).
Tamarind as a Natural Skin Moisturizer
The pulp of tamarind fruit has been used as a natural skin scrub for many years. Tamarind contains alpha hydroxy acids include tartaric acid, lactic acid, citric acid, and malic acid. These alpha hydroxy acids, along with pectin and inverted sugar, hydrate and moisturize skin (11).
Tamarind Recipes
There are some dishes and recipes that call for using tamarind in any form which includes:
Drinks
Sauce
Salad dressing
Soup
Juice
Paste
How To Make Tamarind Paste?
You will often find tamarind paste used in many types of Asian dishes such as in noodles, curries, sauces, and soup. Tamarind paste is ideal as a marinade since it is an effective meat tenderizer.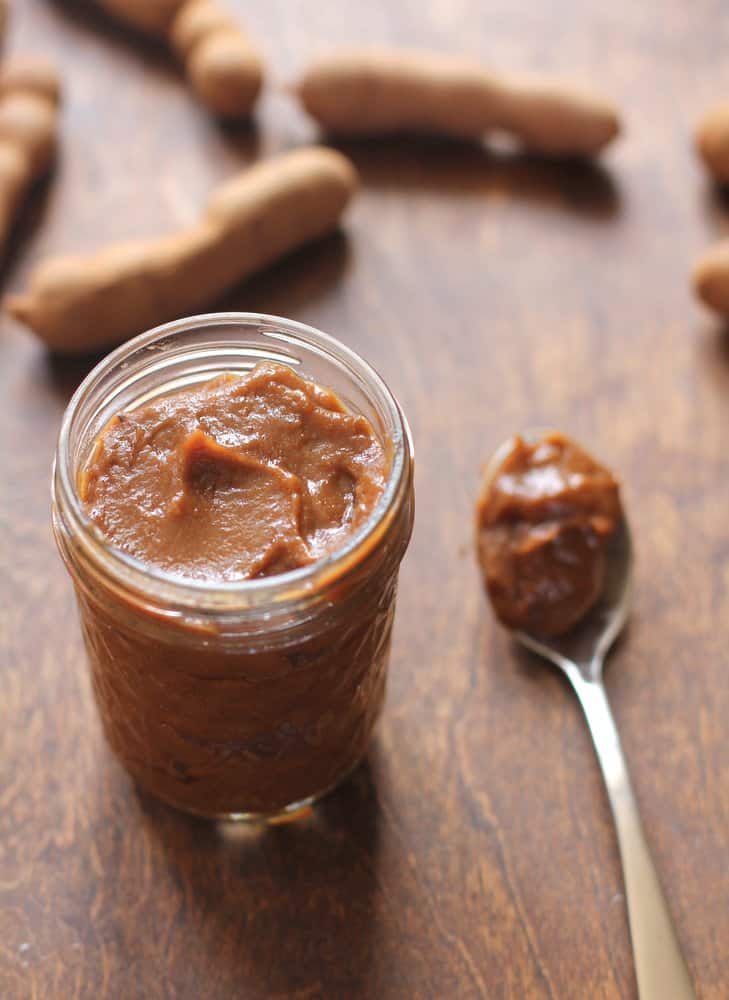 Ingredients
20 Tamarind Pods
2 and half a cup of water
Directions
Remove and discard outer shell and peel off the stringy veins.
Place the pulps in a bowl and pour 2 and 1/2 cups of hot water.
Soak the pulps in the hot water for 1 hour.
Put the pulp and the water in a strainer and push them through.
Collect and store the paste in a jar.
Substitute for Tamarind Paste
Tamarind paste is used in dishes to give it a tangy acidity with mildly sweet notes. If you are out of Tamarind paste or you have run out of tamarind then you can use the below substitutes.
Pomegranate molasses
Pomegranate molasses is a popular substitute for tamarind paste. It matches the taste and texture profile of tamarind paste pretty well. This thick syrupy is nothing more than heavily-reduced pomegranate juice. Its consistency is the same as the tamarind paste. So, when using pomegranate molasses as a substitute, use the same amount that your recipe requires for tamarind paste.
Lime juice
A lot of people use lime juice mixed with an equal quantity of light brown sugar as a substitute for tamarind. It gives the sweet and sour taste but slightly lacks an extra flavor that tamarind provides.
Mango powder
Mango powder or green mango is another great substitute for tamarind paste. Mango powder is made from dried and powdered green mangoes. It adds the sourness that you need from the tamarind paste.
How To Make Tamarind Sauce?
Ingredients
5 ounces tamarind pulp
2 cups of cold water
1 piece (1 inch) fresh ginger, peeled and grated
3 cloves garlic, minced
3 tablespoons sugar
1 tablespoon chili-garlic sauce
2 teaspoons Thai fish sauce
1 teaspoon good-quality soy sauce
2 tablespoons cornstarch
Directions
Combine the tamarind and 2 cups of the water in a small saucepan and bring to a boil over high heat.
Remove the pan from the heat and let stand until the tamarind has softened(15 minutes).
Breaking up the pulp with a spoon.
Strain the tamarind through a sieve, pressing on the pulp to extract as much water as possible.
Add the ginger, garlic, sugar, the chili-garlic sauce, fish sauce, and soy sauce and bring to a boil over high heat.
Reduce the heat and simmer for 5 minutes, stirring frequently.
Whisk the cornstarch with 2 tablespoons water.
When smooth, whisk the mixture into the tamarind sauce, continuing to whisk until the sauce thickens, about 1 minute.
Remove the pan from the heat and let cool.
Before serving, taste and adjust the seasoning, adding more sugar if necessary to balance the tartness of the tamarind. Store tamarind sauce in an airtight container in the refrigerator for up to a week.
How To Make Tamarind Juice?
If you want to lose weight, tamarind juice slows down the production of fat because of its hydroxy citric acid (HCA) content (12). HCA helps reduce the enzyme responsible for body fat production. Tamarind juice is also refreshing in summer.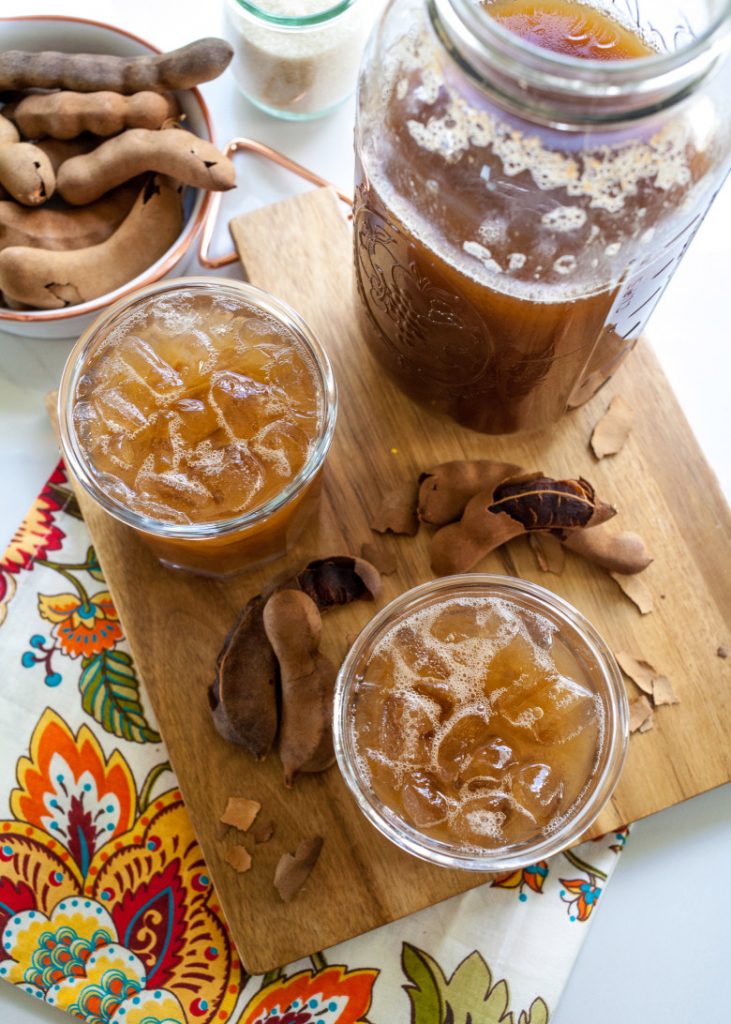 Ingredients
2 cups tamarind pulp
2 quarts boiling water
2 tablespoons sugar or honey
2 tablespoons lime juice
Directions
Boil some water in a kettle.
Place the tamarind pulp in a bowl.
Add lime juice (optional).
Pour boiling water over the tamarind.
Stir in sugar and/or honey.
Cover and allow to stand several hours or overnight.
Strain the tamarind water through a strainer or clean cloth.
Dilute with more water and add more sugar or honey to taste.
Refrigerate and serve with ice.
Tamarind Substitutes
Lime juice, white wine, or rice vinegar are the best substitutes for tamarind. However, you will need to add an equal amount of brown sugar to these substitutes to bring the sweet-sour taste of tamarind. Lemon and lime juice are always available since these are easy to find. Their flavors mixed well with the dishes that call for tamarind.
The Bottom Line
You can eat tamarind, fresh, and raw or cook food with it. Adding tamarind to your dishes makes it more exciting and flavorful. The Indian date, as it is often referred to, can make your marinades, sauces, stir-fries, and drinks interesting. Your barbecue sauce or marinade will not be complete without the sweet-sour taste of tamarind.
You can never go wrong with this versatile meat tenderizer and flavor enhancer. Tough meat is no match for its tenderizing effect. The result is delicious and juicy beef dishes. Next time you are planning on cooking something exciting or making a fruit drink, think of adding tamarind. Tamarind is your next best-kept secret for that extra "zing" and "zest" to your everyday dishes.