Salmon, commonly referred to as the king of the fish is known for its high amounts of vital nutrients such as protein, potassium, folate, and vitamins B6, B12, D, and E. Salmon is also very rich in omega 3 which research shows can reduce one's chance of getting Alzheimers, blood clotting and inflammation. There are many ways salmon can be cooked, served and enjoyed.
If you've ever eaten out at a fancy seafood restaurant, chances are you will find 'Baked Salmon' is a staple on their menu. While baked salmon will not be the most expensive dish on offer or the ritziest, you can never go wrong with a simple piece of salmon served with salad or vegetables. The good news is, if you have tried baked salmon out and enjoyed the taste, it is simple enough to cook yourself. There are a number of different methods to bake the perfect piece of this fish and we'll take a look at how you can achieve the perfect, mouth-watering, piece of salmon at home.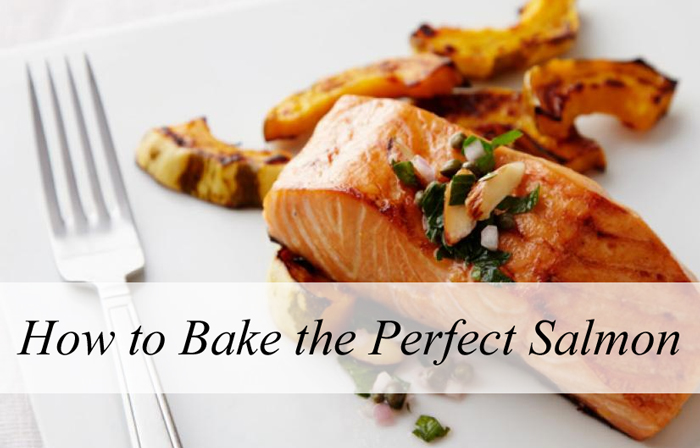 Never tried salmon before? Find out what it tastes like here.
---
Preparing to Bake Salmon
What are the Health Benefits of Baked Salmon?
Whether you are a seafood fanatic, or you are cooking for one, it is good to know that eating salmon can benefit your body in more ways than one. Many even refer to this fish as a superfood!
Salmon is rich in:
Protein
A four-ounce serving of salmon has 26 grams of protein. Protein is vital in our diets as it provides the body with healing mechanisms, helps to protect bone health and gives us energy for everyday activities.
Vitamins
While salmon contains an array of different vitamins, the B group vitamins it contains are beneficial in energy production and protecting the brain and heart.
Minerals
Salmon is high in potassium and eating a piece of wild-caught salmon can provide your body with 18% of the recommended daily intake. Potassium is important in controlling blood pressure and fluid retention in the human body.
Omega 3 Fatty Acid
Salmon is one of the best sources of Omega 3 Fatty Acids. These fatty acids cannot be produced by our bodies and are needed to reduce inflammation, lower blood pressure and reduce the risk of many detrimental diseases.
The flesh of salmon is commonly pink but it can also range from orange to red depending on the variety.
When Should I Serve Baked Salmon?
Baked salmon is the type of dish that can be an easy mid-week meal for the family or dished up with some fancier sides and sauces for a special event. It is an all-occasion dish that even those with only basic knowledge in the kitchen will be able to master by following a few simple tips and tricks. The most important thing when cooking salmon is ensuring that it is actually cooked through. Much like chicken, this can be ensured by cutting the thickest part of the salmon to inspect for a color change. Baked salmon should be served warm, directly after removing it from the oven.
What is the Best Variety of Salmon for Baking?
Wild-caught salmon is often preferred by those with a love for seafood. It has that true, authentic taste. When speaking about wild salmon, you'll be looking at purchasing any of the five main types of Pacific salmon and the type you'll be able to get your hands on will also depend on your geographic location. Pink salmon is the most popular due to its low-fat content and availability.
For the best results, aim to purchase the salmon the same day you intend on cooking it.
Pink Salmon (Humpback Salmon) – Most Popular
King Salmon (Chinook Salmon) – Most expensive
Sockeye Salmon (Red Salmon)
Silver Salmon (Coho Salmon)
Chum Salmon (Silverbrite Salmon)
Should I Purchase Salmon Fillets or Salmon Steaks?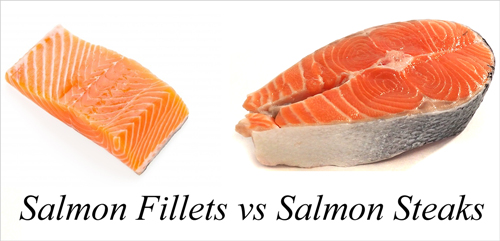 There are two main types of salmon cuts: fillets and steaks. Salmon steaks are cut across the Salmon's body and they are horseshoe in shape. They often contain bones. Salmon fillets are cut lengthwise and are rectangular in shape. The fillets generally do not contain bones thus are often preferred for baking. This means if you are feeding young children, it makes the most sense to purchase and bake salmon fillets over salmon steaks. While there is no evidence to suggest one cut tastes better than the other, salmon steaks are often cut into thicker pieces and this needs to be considered when cooking.
Preparation Prior to Baking Salmon
Now that you have selected your piece or pieces of salmon from the fish shop, you may or may not need to undertake some amount of preparation. If you have purchased salmon fillets, they should be deboned although it is a good idea to still have a feel in case any small bones have been overlooked. Salmon steaks will generally contain bones. If you have purchased a whole salmon you will need to descale and wash the fish.
---
Baked Salmon Recipe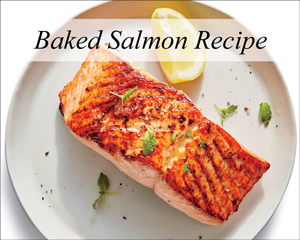 Depending on what piece of Salmon you are working with will determine the best cooking method. For example, those who have purchase salmon fillets, simply placing them on a baking tray, drizzle with a touch of oil will allow them to bake to perfection in a moderate oven. If you are working with a whole salmon, wrapping the salmon in foil with garnishes, spices or herbs can really add to its flavor profile.
To bake your salmon fillets, follow the basic recipe below:
Ingredients:
4 Salmon Fillets (Up to 8 ounces each)
2 Tablespoons of Oil of your Choosing (Canola Oil)
Salt, Pepper, and Lemon for Seasoning
Appliances/Equipment:
Oven
Baking Tray
Baking Paper or Foil
Method:
Preheat the oven to 425 degrees Fahrenheit.
Allow your salmon fillets to defrost and pat them dry with a paper towel.
Line a baking tray with baking paper or foil.
Season your salmon with a seasoning of your choice. Many like to rub a touch of salt into the flesh of the salmon.
Face the salmon fillets skin side down on the baking tray and cover them with a thin layer of oil using a pastry brush.
Bake salmon for 20 minutes per kilo or until the internal temperature reaches 450 degrees Fahrenheit and the salmon flakes easily when a fork is inserted and twisted.
Serve warm with a sauce and side of your choosing. Those that love salmon often enjoy it with only a touch of lemon.
Most salmon fillets (one inch thick pieces) take around 8 minutes to cook through in a pre-heated oven. If a piece of salmon is ready, the flesh should be opaque unlike the transparent appearance it has when purchased from the fish market.
---
Salmon Burger Recipe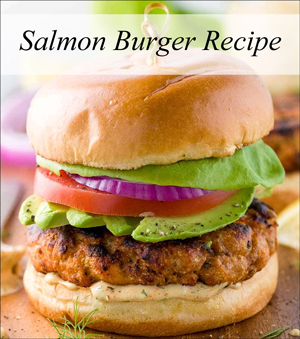 Just like beef, salmon can also be used for burger patties. If you love burgers, then you must try a salmon burger at least once in your lifetime.
Below you can find a simple Salmon Burger recipe that we can vouch for:
Ingredients:
1.5 Pounds of Skinless and Boneless Salmon
1/2 Cup of Breadcrumbs
2 Tablespoons Oil of Your Choosing
2 Teaspoons of Dijon Mustard
Handful of Capers
2 Shallots Thinly Sliced
Salt and Pepper for Seasoning
Lemon Wedges and Burger Sauce of Your Choosing
Appliances/Equipment:
Food Processor
Tray
Bowl
Wooden Spoon
Oven
Method:
On a chopping board, slice the salmon into cubes and place one quarter into a food processor. Add the mustard and turn on the processor.
Once the food processor has broken down the salmon, add the remainder of the salmon.
Mix until combined in the food processor.
Add the shallots and pulse until all is well combined. Make sure you do not turn the mixture to puree though. Some lumps and bumps are good.
Scrap the mixture from the food processor into a bowl and add the breadcrumbs. Add a handful of capers and some salt and pepper for flavor.
Shape the mixture into four even patties and place them in the fridge for 2 hours on a non-stick tray.
You can either grill the burger patties or cook them in a pan that has been well oiled. they will take approximately 4 minutes on each side.
Serve the patties on a bun with lettuce, tomato, onion and sauce of your choosing. Many also like to add avocado and capsicum.
If you are unable to get your hands of fresh salmon for one reason or another, don't worry we have the best-canned salmon patty recipe here.
---
Salmon FAQ's
5 Tips to Bake the Perfect Salmon
Ensure you purchase good quality salmon in the first place.
Wild-caught salmon is often the tastiest and while you may pay slightly more for the labor involved, you know it will be fresh and more than likely sustainably harvested. When you select your piece/s of salmon, the skin should appear shiny and the flesh should look moist. Avoid purchasing salmon that has an overly powerful 'fishy' smell. Wild-caught salmon should smell more like the ocean.
Purchase pieces of salmon that have the skin intact.
The skin can prevent the piece of salmon from drying out during the baking process. Skin can always be removed after cooking.
Always double-check for bones prior to cooking.
There would be nothing worse than serving up your great grandmother a nice piece of baked salmon for her to chomp down on a hard and sharp bone.
Avoid overpowering the salmon with too many seasonings.
The salmon flesh will absorb flavors easily so if you wish to marinate your fillets, you will only need to do so the hour prior to cooking.
Do not overcook your salmon.
Make sure you follow the guidelines for the piece of salmon you have chosen. While salmon is a tender protein if you overcook the piece/s you are working with, it can become dry.
How Can I Cook a Healthy Piece of Salmon?
While there are many ways you can cook salmon whole, fillets or steaks, poaching salmon is often the healthiest. The reason why? Well, poaching salmon requires no use of any added oil whereas methods such as baking do. To poach a salmon fillet, it's as simple as adding the fish to a shallow saucepan, filling the saucepan with water to the surface of the salmon and turning on the element. Poaching a piece of salmon takes approximately 10 minutes. As this method only uses water, it adds no additional calories to the dish.
Methods of cooking salmon, in order of healthiest include:
Poaching (Use of simmering water)
Steaming (Use of boiling water)
Baking (Use of Oil, Olive Oil is a Healthier Option in Comparison to Canola Oil)
Grilling Salmon (Use of Oil)
Can I Store my Baked Salmon?
If you bake your salmon although you have leftovers you may be wondering if you can eat it in a day or so. While salmon has a tendency to dry out if reheated after being baked, it can be added to salads or dishes with dressings. You can store your baked salmon in a sealed container in a fridge for up to 2 days or in a container in the freezer for up to three months. After these periods, it is better to discard any leftover baked salmon. Ensure if you are storing your salmon in either the fridge or freezer that your appliances are of adequate temperatures to prevent spoiling and contamination of food.
For more information about storing baked and fresh salmon, take a look at our previous article.
---
What Temperature Should I Bake Salmon At?
Salmon can be cooked at a higher temperature for a lesser amount of time but the following table outlines approximate times for baking Salmon cooked at 350 degrees Fahrenheit.
| | | | |
| --- | --- | --- | --- |
| Salmon Type | Over Temperature | Salmon Weight | Approximate Total Cooking Time |
| Whole | 350°F | 3 – 5 lbs | 25 to 30 minutes |
| Fillets | 350°F | 3 – 5 lbs | 25 to 30 minutes |
| Steaks | 350°F | 3 – 5 lbs | 35 to 40 minutes |
While there is no one set temperature that you should cook your salmon at, many seafood lovers suggest a pre-heated oven of 425 degrees Fahrenheit. This ensures the salmon cooks efficiently although slow enough so it does not dry out. You want to achieve moist, flakey salmon, not salmon that is dry and burnt to a crisp. Following guidelines, you can tell your salmon is cooked if the internal temperature exceeds 145 degrees Fahrenheit. Anything below this suggests that you should continue to cook your fish for longer to avoid getting sick.
The time it takes to cook your salmon will ultimately depend on how thick the piece you have purchased is. For instance, a one-pound salmon fillet will take between 12 to 20 minutes in an oven that has been preheated to 400 degrees Fahrenheit.
How Can I Tell Whether or Not My Baked Salmon is Cooked?
There are a number of telltale signs that your piece of baked salmon is ready to be enjoyed. Firstly, if you have a kitchen thermometer, check the internal temperature of the salmon. A cooked piece of salmon will have an internal temperature of at least 145 degrees Fahrenheit. Secondly, if you insert a fork into the center and twist it gently, the salmon should appear flaky yet moist. The third and more obvious sign that your salmon is ready is the color. A cooked piece of salmon will appear opaque meaning that it is a solid color. If it appears 'see-through' you will need to leave your salmon in the oven for longer. As the salmon cooks the color will also change from a darker orange/pink color to a lighter orange/pink color.
If you purchase farm-raised salmon it is often harder to overcook due to the higher fat content it contains. Wild-caught Pacific salmon is a leaner choice although this also means that overcooking can be easily done.
---
Can Salmon be Baked Frozen?
The simple answer is yes, Salmon can be baked frozen although it is not recommended. The reason why is that when baking a piece of salmon that is still frozen, it is hard to cook the inner flesh right through without burning the outer skin. The best practice is thawing your piece of salmon overnight in the refrigerator where possible.
---
How Long Should I Bake Frozen Salmon?
To bake frozen salmon, it is suggested to do a covered/uncovered method. This allows the inner to cook through without the outer skin burning to a crisp. Basically wrap your salmon in aluminum foil and place it in an oven preheated to 425 degrees Fahrenheit. Cook the salmon for approximately 15 minutes and then remove the foil. Place the salmon back in the oven to cook uncovered for another ten minutes (approximately). This will ensure the inside of the salmon is cooked through. Of course, these times will depend on the overall depth of your piece of salmon.
---
Differing Ways to Bake Salmon
How to Cook Salmon on the Grill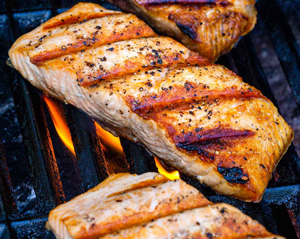 Whether you own a gas grill or a charcoal grill, both can be used to cook salmon to perfection. While a gas grill won't add that smoky flavor to the fish, it will allow you to still create a delicious staple protein that can be added to any dish.
Preheat your gas or charcoal grill. A charcoal grill can take up to 10 minutes to be ready for cooking.
Place the salmon fillets skin side down on the grill at a suggested temperature of 450-500 degrees Fahrenheit.
Cook the salmon for 6 to 8 minutes or until it is opaque in color. Keeping the lid down during the cooking process will ensure the salmon cooks through to the center.
After approximately 8 minutes, your salmon will be almost cooked and its time to flip it to brown off the top. Flip the salmon and allow the top to brown for 2 minutes.
Whether or not you glaze your salmon in oil prior to cooking it on the grill is entirely up to you. If you preheat your grill you should have no issues with the salmon sticking, but some like to be sure by lightly greasing.
---
How to Bake a Whole Salmon in the Oven
Salmon fillets or steaks are better options for those who have basic cooking skills. Only attempt cooking a whole salmon if you have the knowledge to descale fish and you are cooking for a large crowd.
While salmon can be cooked a number of different ways, many opt to bake it in the oven due to the convenience, mess-free approach it allows for. Baked salmon is often an easy 'mid-week' meal for many families.
If you wish to bake your whole salmon in the oven follow the steps below:
Preheat your oven to 400 degrees Fahrenheit and line a large tray with baking paper.
Wash your salmon with cold water and pat dry the skin with some paper towel. Cut off the tail and fins with a sharp knife and discard them.
Lay the fish in the baking tray and using a sharp knife, make slits down the body of the fish.
Create a dressing of your choosing. Some prefer just glazing the fish with oil while others like to make up a mixture of oil, garlic, lemon zest, and mixed herbs.
Place the tray in the oven. You can expect the salmon to take between 35 to 40 minutes to cook depending on how thick it is.
---
How to Bake Salmon Fillets in the Oven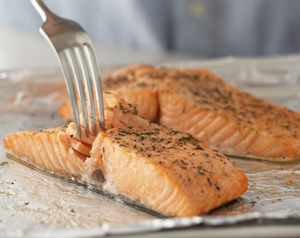 Salmon fillets are generally what you will purchase from the local fish market if you intend on having fish for dinner. Salmon fillets are by far the easiest to bake and ensure they are cooked through. The other great thing about salmon fillets is they do not generally contain bones, unlike salmon steaks making them perfect for families.
Preheat your oven to 450 degrees Fahrenheit.
Season your thawed salmon with salt and pepper and place it skin down on a sheet of baking paper or directly on a nonstick oven tray.
Bake in the oven until it is cooked through. This generally takes between 12 to 15 minutes.
Serve warm with a side of your choice.
---
How to Bake Salmon in Foil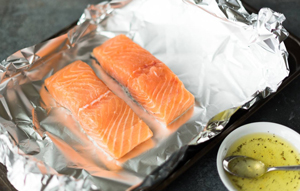 While you can bake salmon in foil or without foil, there are a number of reasons why some seafood experts suggest the use of foil when cooking salmon and it isn't just to make the cleanup easier!
If you wish to marinate your salmon, the foil casing acts as an incubator for the salmon. It ensures the marinate touches the entirety of the fish throughout the cooking process. Another reason many choose to wrap their salmon in foil prior to baking is to lock in the moisture so that their fish turns out moist and flakey. Thirdly, being able to toss away the foil after use means that the clean up is as simple as rinsing down the tray the salmon pieces were placed on.
Wrap your whole salmon or salmon fillets in foil and add the seasonings/marinate of your choosing.
Place the wrapped salmon or salmon fillets on a baking tray skin side down.
If you are cooking individual salmon fillets in foil, preheat the oven to 450 degrees Fahrenheit. If you are cooking a large salmon in foil, preheat the oven to 375 degrees Fahrenheit.
Salmon fillets baked at 450 degrees Fahrenheit in foil will take approximately 10 minutes whereas a large salmon in foil baked at 375 degrees Fahrenheit will take upwards of 20 minutes.
Once the salmon is baked through, remove it from the oven. Place the fillets or salmon on a plate and discard the foil.
If you enjoy the crispy-skinned salmon, do not wrap your salmon fillets in foil. While the flesh of salmon wrapped in foil may be somewhat more tender, the skin will not be crispy and generally should be removed prior to serving.
---
How to Bake Salmon Steaks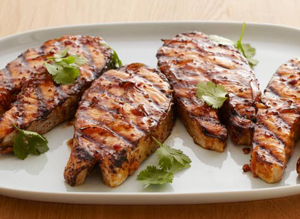 Salmon steaks are just another cut of the salmon. As they are cut directly perpendicular to the spine, they contain bones, unlike the salmon fillets. While you can come across some boneless salmon steaks, it is important to be aware that some smaller bones may be left behind.
Preheat your oven to 400 degrees Fahrenheit.
Oil a baking dish or use baking paper to ensure the salmon steaks do not stick.
Place the salmon steaks in the baking dish and add seasonings or marinates of your choosing. A simple butter and lemon juice glaze adds flavor to salmon steaks.
Cook your salmon steaks for ten minutes per each inch of thickness. Salmon steaks tend to be thicker than salmon fillets so it is important to cook them for long enough to ensure the inside is cooked through.
---
How to Bake Salmon with Skin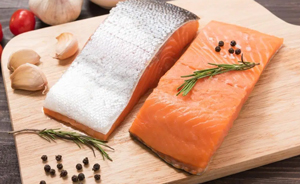 If you have never tried baked salmon before you may be questioning whether or not the skin is edible. The skin of salmon can be enjoyed as long as it has been cooked thoroughly.
For some, the Salmon skin is much like the crackling on a slice of pork. It is half the reason they have chosen such protein in the first place. For others, they shy away from the skin of the salmon. Whether you enjoy the taste of salmon skin or not, it is the best practice to cook a piece with the skin on as it prevents the protein from drying out. The skin can always be easily removed after cooking.
If you are leaving the skin on your salmon for the best cooking results, ensure if you are baking the salmon on foil that you have dried the skin by patting it with a paper towel. If there is too much excess moisture left on the salmon skin, chances are it will stick to the foil.
---
Seasonings for Baked Salmon
It is important when adding seasonings prior to baking your salmon, or afterward for that matter of fact that you do not go overboard. Common baked salmon seasonings include although are not limited to the following:
Lemon Juice
Salt
Garlic Powder / Fresh Garlic
Cracked Pepper
Fresh Herbs / Dried Herbs
---
Sides and Sauces for Baked Salmon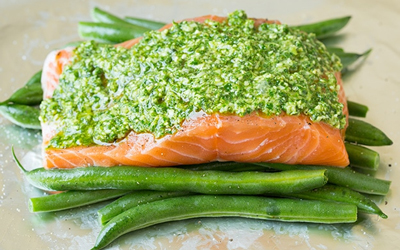 If you have baked your salmon to perfection you may now be wondering what you can serve alongside your protein or more importantly what type of sauce can accompany it.
While the list of sides and sauces that can be served with baked salmon are as long as a piece of string, we've compiled a number of the popular ones below that may take your fancy.
Sides:
Garden or Greek Salad
Baked Potatoes
Mashed Potatoes
Roasted Vegetables (asparagus, pumpkin, sweet potato, tomato, Brussel sprouts)
Corn on the Cob
Potato Fries
Sweet Potato Fries
Mushy Peas
Honey Glazed Carrots
Brown Rice
Grilled Asparagus
Couscous
Sauces:
Pesto
Lemon Juice
Soy Sauce
Lemon Butter
Garlic Butter
Balsamic
Honey Glazed
Sour Cream
Mustard
---
Baked Salmon and Mayonaise
When speaking about popular baked salmon sauces, you can't go past the classic herb and mayonnaise baked salmon. This simple recipe is easy to make even for those with little to no knowledge in the kitchen.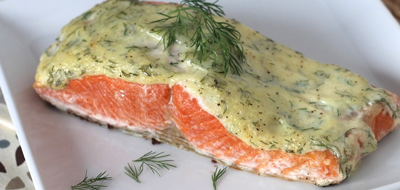 Ingredients:
4 Pacific Salmon Fillets (Similar in Sizing)
1/2 Cup of Mayonaise
1 Garlic Clove (Crushed)
A Pinch of Salt and Pepper
1.5 Tablespoons of Dill
1.5 Tablespoons Lemon Juice
Appliances/Equipment:
Oven
Baking Tray
Baking Paper
Wooden Spoon
Bowl
Method:
Preheat your oven to 450 degrees Fahrenheit.
Line a dish or tray with baking paper.
Rub the salt and pepper into the flesh of each of the salmon fillets.
In a bowl, combine the lemon juice, mayonnaise, dill, and garlic. Mix together with a spoon.
Add a layer of the mayonnaise mixture to each of the salmon pieces. Be generous with the spread and ensure the top of each salmon fillet is covered.
Bake the salmon for approximately 10 to 12 minutes depending on the size of the fillets.
Add a pinch of herbs to the top of each salmon and a slice of lemon for presentation if you wish to.
---